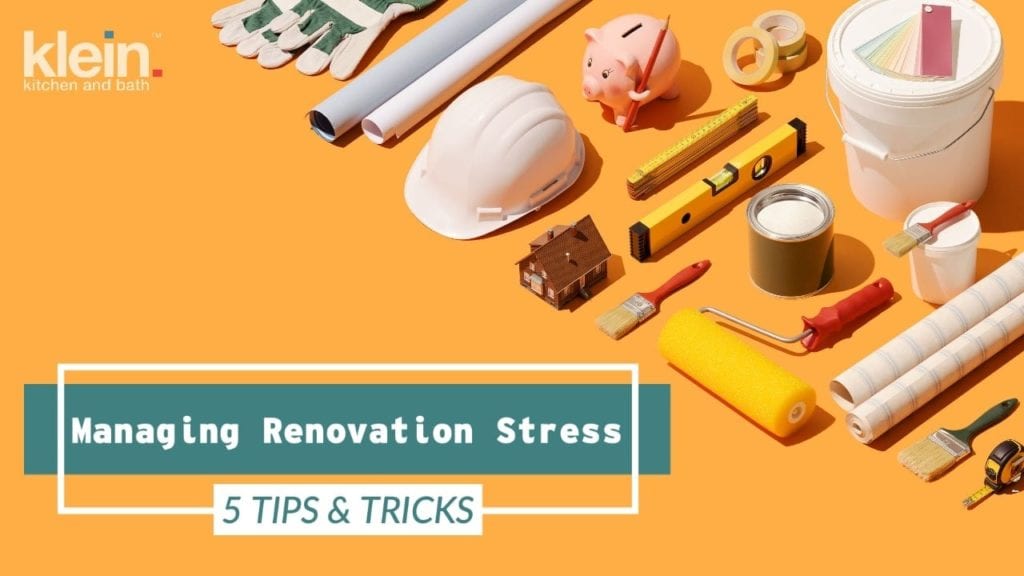 No matter what room you choose to renovate, no matter how big or small the remodel, renovations can be stressful! Even if there are no surprises, frustration and even fear can creep in when the going gets tough. While our team is there for you every step of the way, we understand that emotions can still run high during renovation upheaval, so we wanted to provide you with 5 tips on how to manage renovation stress to make the process as smooth and easy as possible for you! April is also National Stress Management Month, so what better time to learn how to relax than now.
1. Get out of the House
Spending every waking, free moment on your renovation is a recipe for a stressful situation! The noise, dust, and number of people in your home can be a lot to handle, and being at your home 24/7 is just a reminder of everything that still needs to get done. If you're able this would be a great time to schedule a vacation, or even a staycation at a local hotel to get out of the house during the height of the remodel. If a vacation or staycation isn't possible, staying a few nights with family or friends, or even just getting out of the house for a few hours, can help recharge your batteries and give you the energy you need to keep going. getting away for a while can dramatically reduce your stress and help you relax.
If you're staying home during your renovation, check out our other blog "Pros and Cons of Staying Home During a Renovation"
2. Be Realistic
Setting realistic expectations is one of the most important things to do when going through a renovation. It's crucial to set expectations on timelines, on constraints, and of course on budget, with your contractor before you even start demolition. When you set these expectations at the beginning of your renovation, during your design and contract phases, it helps the whole process run smoothly and efficiently, which in turn leads to less stress! Being realistic about the constraints of your renovation will help reduce stress and even disappointment about what can and cannot be done in your space.
3. Stay Flexible
While setting realistic expectations for your renovation is essential, it's also important to remain flexible when things get off track. Sometimes renovations run into unforeseen complications, like longer than usual wait times, blocked permits, or even mix-ups. Accepting that from day one can help you stay flexible and less stressed. A rigid timeline and unrealistic expectations will only cause anxiety. Make sure you have plenty of contingencies, from a padded timeline to backup material choices so you are ready for whatever happens. Staying flexible and knowing that it'll be finished will help make the process more pleasant!
4. Do Research Beforehand
Coming into your design meetings with ideas on what style you are looking for, or even more specific aspects like a stone you love, or fixtures you've had your eye on, is a great way to get things moving quickly! While it's normal for design changes to happen as you progress in planning your new space, the sooner you get the design finalized, the sooner you can get your renovation going! In addition to expressing your design preferences, doing your own research it will also make you more knowledgeable about the materials and process. When you know what is going to happen next, and how materials are sourced, it can help reduce stress since you know what to expect! It's also not a bad idea to talk to friends and family who have gone through renovations before you start. They may have great advice and information regarding which questions to ask each of the professionals.
5. Keep Communication Open
In any good relationship communication is key, and this also applies to the relationship between you and your designer, and you and your contractor. If something is worrying you, or making you stressed, it's important to communicate this with your contractor to get the answers you need to put you at ease. Renovations are inherently stressful because your space is being entered and altered, but keeping open lines of communication can help ensure that emotions, worries, and questions don't build up and cause a negative confrontation, or worse a renovation that you are not completely happy with! Save yourself emotional stress during your home renovation by being clear and consistent in your communication.
While renovations can be stressful, they are absolutely worth it in the end. They are an investment in your home and your life that can increase property value as well as quality of life in general! For a short amount of time that you have to deal with dust and noise, you will be gaining more beautiful and functional spaces that will make you fall even more in love with your home. When the going gets tough just remember to take a deep breath and focus on the end result, you will get there! We also offer a comprehensive 5-Year Labor Warranty on all of our remodels so you don't have to worry about if something happens to your new space once we leave.
Ready to get started? Get in touch with our team today!