Living in NYC small spaces come up more often than not. Small kitchens, closet sized rooms, and of course tiny bathrooms. When faced with a small bathroom, it may feel like there is no hope in getting a stunning space because there is no room to work; but there are actually a lot of tricks you can use to not only make your space feel larger, but more luxurious too!
Step 1:
The first step in planning your small bathroom remodel is planning. Considering not only how, but who will be using your bathroom. Is this going to be a full bath? A half bath? Is it a space you and your family will be using every day, or is it reserved for guests? No matter what your new bathroom will be used for, the absolute first step is figuring that out- and your designer can help you do that! We'll break down what each of these two bathroom categories to help you out:
Full Bathroom: This term refers to any bathroom with a full range of amenities—toilet, vanity, sink, and tub/shower. It is a bathroom that is normally used every day. Master bathrooms are almost always full bathrooms, guest bathrooms and kids bathrooms can be half baths (also called powder rooms) or full bathrooms!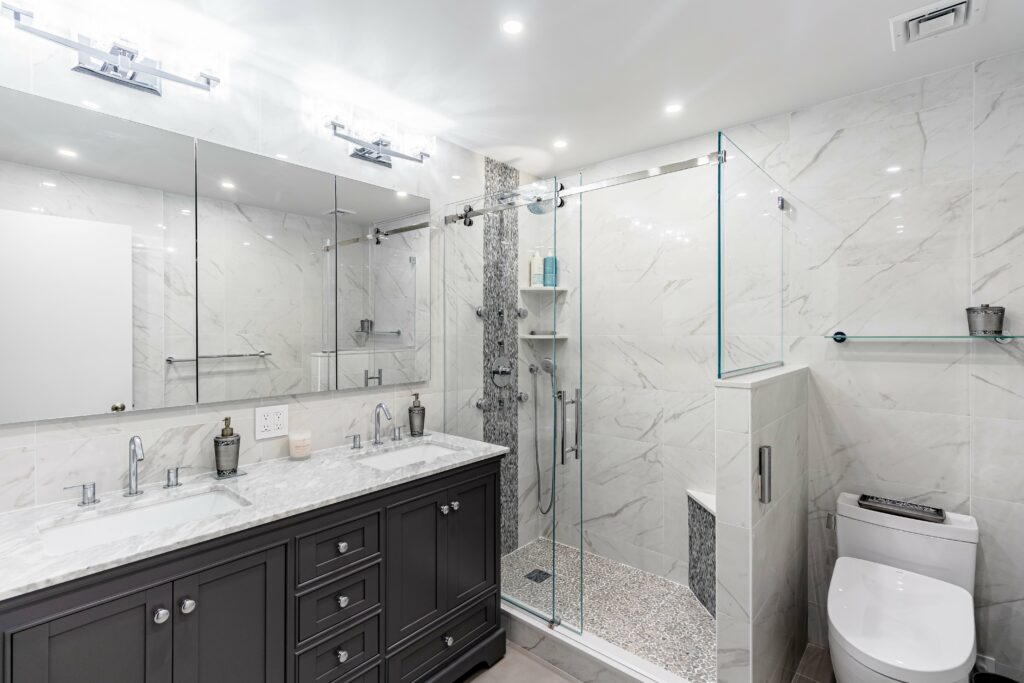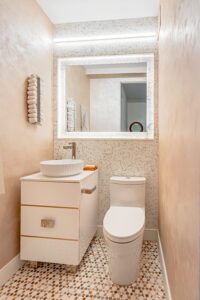 Half Bath: A half bathroom, also sometimes called a powder room, features little else other than a toilet and a sink. These spaces are only found in larger apartments or homes and are a convenience bathroom used by family members and guests when they have no need for the amenities of a full bathroom. One of the best perks of having a half bathroom is that they can be remodeled pretty quickly!
In addition to thinking about how you want to use your bathroom, it's important to consider who will be using your bathroom during the planning phase. Are there children who will be utilizing this space? Do you have elderly people who will need easy access? When you think about the people who will utilize the space, you will be able to make informed choices about each thing that goes into your new bathroom. For instance, if small children are going to be in your apartment, a tub is a must, and because as they get older they'll start utilizing the space on their own, it's important to have super resilient flooring since kids can easily get water all over a bathroom floor! Elderly guests or family on the other hand may require additional features such as grab bars, lower counters, and no-slip flooring areas.
Step 2:
After you get through what the space will be used for, it's time to move on to the floor plan of the bathroom! While there are some limitations as to placement of things due to plumbing, there are still many options to make your small bathroom feel bigger than it actually is. In some cases, when you are able to move things around a bit, one of the best tips is to align heavy bathroom pieces such as the toilet, the bathroom sink, and the shower or bathtub in a row. The new distribution visually orders the space, allowing you to perceive it in all its magnitude, even with its small size. When you align your bathroom like this it cuts down on wasted floor space, which is a valuable commodity in small bathrooms. A typical bathroom in an apartment is only 36-40 square feet, so there really isn't a lot of room to work with, so making them feel as open as possible is key. We also advise keeping larger items at the back of the room to make it visually feel larger.
Step 3:
After you think through who will use the space, how it will be used, and have an idea of layout, now you can move onto determining how you want your new bathroom to look! It's time to start looking into tiles, fixtures, stone, vanities, and more. You can start thinking about if you want a very modern bathroom, or a more traditional space and begin to work through the overall feel and tone of your space! This is where the process really starts to get fun, but it can also feel very overwhelming. We recommend starting with one thing that really speaks to you and building from there. It could be a stone slab, a paint color, or fixtures, but when you start with one thing that you really love and start to build, it can make the process feel much less daunting. However, if you're working with a Klein Designer, they will be there to make sure the process is smooth and stress free for you! Our team handles everything from design, to material sourcing, to demolition and installation! We are the ultimate one-stop-bathroom-renovation stop in NYC.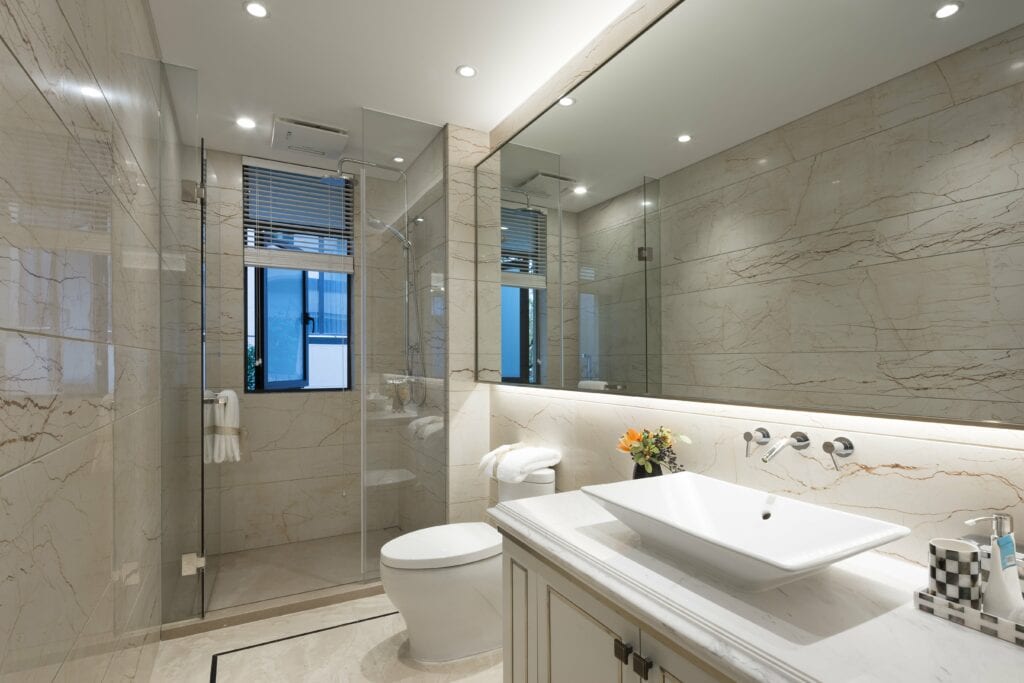 Leverage Transparency
When playing with small spaces, it's important to create the illusion of space as much as possible. A clear glass shower enclosure is a better bet than frosted glass doors or a shower curtain because it allows the eye to perceive the entirety of the bathroom. We advise eliminating any partial wall in the bathroom that may be separating the shower and the tub and replacing it with glass, to make the whole space feel larger!
Choose a Vanity with Rounded Corners
Unfortunately when you have a small bathroom in an apartment, expanding it is not usually an option, which means you have to work with the space you have. In tight spaces, vanities with sharp corners can be hazardous. A vanity with rounded corners can prevent bruised hips.
Extend the counter over the toilet
Utilizing every inch possible is critical when designing a small bathroom, and one of the best ways to create extra counter space is to extend it over the toilet. Though this may not seem like a lot of extra space, it can be extremely effective at creating just enough counter space to make your small bathroom feel larger.
Use a wall-mounted faucet
Not only are wall-mounted faucets super modern and beautiful, but they also allow you to have a smaller vanity, freeing up valuable floor space!
Get Creative With Storage Ideas
Every bathroom requires storage for toiletries, towels, toilet paper, and other personal items, but when you're working with a small bathroom, you have to start getting more creative with how you create and utilize storage to maximize the space. Recessed wall cabinets and recessed medicine cabinets are a great way to create more storage space in a small bathroom. Another thing to consider is that though pedestal sinks are beautiful, they have no storage underneath,making them more of a hindrance than an asset in small bathrooms. Wall hooks are a good way to store towels and robes.
Go Big!
Though it may feel counterintuitive, utilizing large tiles helps make a small bathroom feel larger. When you utilize large slab tiles, it makes grout lines smaller and fewer, giving the illusion of a bigger space. Not only that but large patterns can trick the eye into making a small space look much larger than it actually is!
Don't be deterred from renovation your bathroom just because it is small. Even small spaces can become luxurious and beautiful with the right materials and the right design. Head over to our bathroom design portfolio to start getting inspiration for your renovation, and if you're ready to get your remodel started, get in touch with us today to schedule your complimentary consultation!