Types of Bathroom Faucets
Bathroom fixtures are a great place to make a bold statement. Whether the design is sleek and minimal, or bold and bright, there are bathroom faucets and sinks to suit every design. With the vast choice and wide price range, choosing the right faucet or sink can be overwhelming. We'll help to guide you through the available options so you find a design that perfectly suits your style and needs.
SINK FAUCET FUNCTION
---
When considering the function of a sink faucet, there are two main types of faucets available; wall mounted and deck mounted. Wall mounted faucets attach directly to the wall above a wall mounted sink. Conversely, deck mounted faucets are attached to the sink surface itself, whether that is a pedestal sink or a sink basin set into a cabinet. Wall mounted sinks and faucets may be a better option if space is at a premium and often work well in tight, urban settings. From a functional standpoint, consider whether a single handle or two handle faucet better fits the design of the bathroom. A single handle faucet may be easier to manipulate and can offer a sleek look, but a two handle faucet can provide more temperature control which is extremely important in the bathroom.
SINK FAUCET FORM
---
The faucet is a key focal feature, so this is a chance to really make a statement. Delta bathroom faucets come in a wide variety of finishes and styles. If the bathroom calls for a modern and simplistic design, Grohe bathroom faucets feature a sophisticated European inspired style. Kohler faucets now have a new line of products, called the Artifacts Collection, which feature fixtures inspired by turn-of-the-century design, perfect to capture the popular farmhouse look.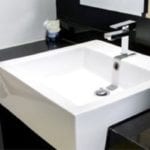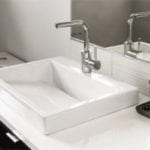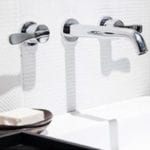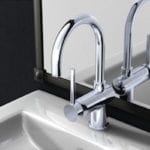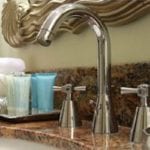 Bathroom sinks vary in design and size. While there's a bathroom sink for every bathroom style, the trick is finding the right options to complement your interior design. Whether you prefer a pedestal sink or a wall-mounted variety, avoid the temptation to limit your imagination.
PEDESTAL SINKS
---
Pedestal sinks feature a bowl resting on a pedestal base, placed at a standard height that guarantees you comfort when washing your hands. Today, pedestal sinks come in stainless steel and glass which afford you unimaginable beauty in your bathroom. Pedestal sinks, however, use up the storage space that could otherwise be useful, especially in the small bathrooms.
WALL MOUNTED SINKS
---
The wall-mounted sinks are ideal for open-plan designs. If space is an issue, you can free up the area around the sink to eliminate clutter, and make your design airy. While there are plenty of ways to hide the plumbing pipes, the best strategy is to incorporate them into the wall. There is a broad array of wall-mounted sinks, but you will need to choose this option earlier on in the bathroom renovation before the walls are tiled.
VANITY OR COUNTERTOP SINKS
---
The vanity sink is a self-rimming basin that has rolled edges that fit into the countertop. In addition to being budget-friendly, the vanity sinks come in varying designs, providing extra storage space for toiletries and sundries. The vanity allows you to hide the unsightly plumbing pipes effortlessly, making them the most popular bathroom sinks.
VESSEL SINKS
---
Vessel sinks, mostly made of glass and natural stone, are large bowls mounted on a countertop, and usually used in guest bathrooms and powder rooms. Hammered or smooth copper vessel sinks are also popular in rustic bathroom designs. The unique design of vessel sinks makes them inconvenient for everyday use, such as, washing and brushing your teeth. Vessel sinks are versatile, and their adaptability makes them the extremely popular in the contemporary bathrooms.