White is always a classic, popular (perhaps because they are the safest) choice when it comes to bathroom colors. Black bathrooms have gained popularity in the last few years. But what about the rest of the rainbow? Bathrooms can easily be dismissed as the dullest room of the house, but there's plenty of opportunity to play around with material and color. Color can breathe life into your bathroom and we are here to show you that colorful bathrooms can be just as breathtaking as their monochrome cousins!
Ready to be bold in your bathroom? Keep scrolling to be inspired…
Colorful Walls
Introducing color into your bathroom is probably the easiest through paint color, or wall finishings. There are so many beautiful, colorful, wallpapers and paint colors on the market today ranging from neon's to pastels, dark to light, and anything in between.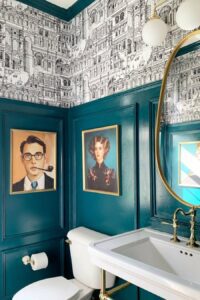 (image via chsblonde.com)
Bright, bold, blues are one of our favorite bathroom colors. Blue has such a color range too, and can evoke many different feelings and moods. Navy for instance can inspire all kinds of bathroom styles including nautical, traditional, and preppy depending on what other colors, tones, and finishes it is paired with. Whereas turquoise (like you see above) creates the perfect harmony between a bright interior with a lively spirit and calming color tones that don't feel overwhelming.
Pro Tip: Painting the lower half of your bathroom walls, or color blocking, with a punchy, bold color is very trendy right now! To achieve this look, use natural breaks, such as corners, alcoves, shelving, dado or picture rails, to start and stop different color choices.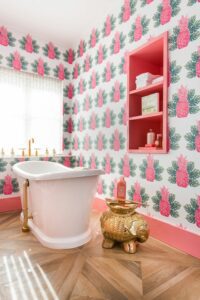 (image via elledecor.com)
Wallpaper can add pattern to a bland bathroom and works particularly well in small spaces such as powder rooms. Popping colors like the pink and green you see in this wallpaper bring life and energy to any space, and pulling out the pink tones for the accents of this room ties everything together beautifully. The simplicity, and elegance of the soaking tub allows the wallpaper to be the focal point and gold accents keep things modern and light.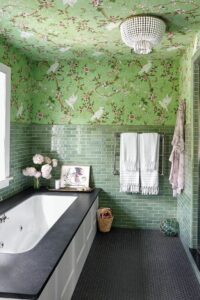 (image via elledecor.com)
Florals are big news for 2021, and that includes bathroom design! The palette you choose will guide your decisions when it comes to choosing floral designs and will act as the basis for pulling your scheme together. When working floral prints into your home, think about the scale of the flowers in the patterns. Large prints can make small rooms appear even smaller so stick to daintier designs to create an illusion of space. This particularly elegant wallpaper is by Brunschwig & Fils.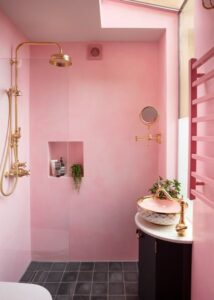 (image via homesandgardens.com)
Colorful Tiles
Colorful tiles are the next best way to introduce color into your bathroom. Tiles are the most common material in bathrooms, so why not have some fun with it and go big and bold with color! There are a few ways you can incorporate colored tiles into your space.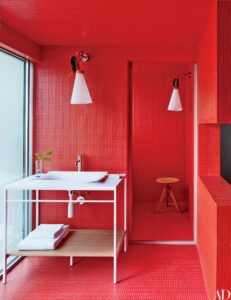 (image via architectualdigest.com)
If you're ready for a top-to-bottom renovation, colored tile can help a space stand out. A maximalist approach and cover the entire space with small, square tiles to create a bold statement. This bathroom by the Campana brothers is in San Paulo and features Red Bisazza tiles.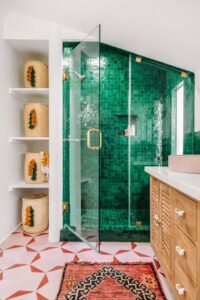 (image via thenordroom.com)
Another great option for colorful tiles is an accent wall or alcove. Choosing to line your shower stall, or bathing area, in a bright fun tile color that is different from the rest of the space not only creates a focal point, but brings contrast to the room. The tiles you choose here can be a different shape, color, size, or any combination of the aforementioned to create something truly unique to your style!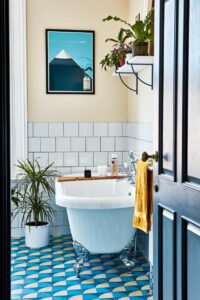 (image via realhomes.com)
Finally, if colorful tiles on the walls aren't your thing, maybe a colorful floor is more your speed! A colorful floor gives you the opportunity to not only bring color and pattern into the space but also create a sense of grounding. The mix of deeper blues, light blues and that creamy pale yellow work so well together in this space. Plus the white wall tiles bring some freshness into the space.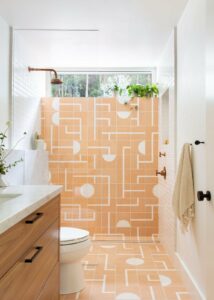 (image via dwell.com)
Colorful Fixtures
Maybe you don't want to commit to bright walls, or pink tiles- there are still ways to make your bathroom fun and colorful! Many companies today are making colored tubs, sinks, faucets and more. These are a fun and unique way to bring color into your space without it feeling overwhelming.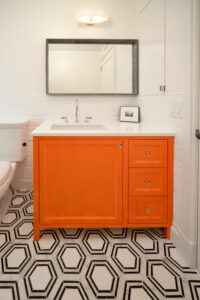 (image via houzz.com)
Colorful vanities are a versatile way to add a pop of color to your bathroom. This can become a funky highlight of an otherwise simple space, so you don't compromise the clean, monochrome bathroom that you love, but you add some fun personality in at the same time. The best part is that if you really don't like the color after a while, you can always paint over it to change up the feel of the room, whereas if you chose something more permanent- like tiles, it would be much more difficult (and costly to change things up)!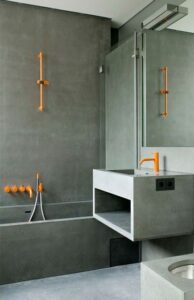 (image via atticmag.com)
One of the biggest complaints about modern minimalist design is that it can feel cold and unwelcoming. That may be especially true when the walls and fixtures are concrete, black, white, gray or beige. But when you go out of the expected chrome or nickel finish box for your fixtures, you can make an otherwise stark bathroom feel fun and fresh. Viola is one of the leaders in colorful fixtures, like you can see here in orange. Faucets, shower heads, and knobs come in a large range of colors from reds to blues, yellows, to greens, and everything in between. Fixtures are a subtle way to brighten your space, but one that can be effective and unexpected!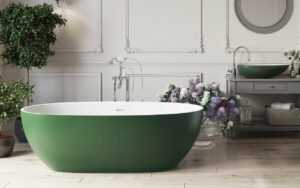 (image via aquatica.com)
Want to make a bigger statement than a colorful faucet? How about a green bathtub or a pink sink! While there aren't too many options on the market right now for colorful bathtubs, if you do some digging you'll find them. For instance this gorgeous green soaking tub is from aquatica, and there are options similar to this from other sellers as well! Many times you can also refinish or paint a bathtub to get the color or finish you want, so you don't necessarily even need to invest in a new bathtub to get something colorful! There are slightly more options for colorful sinks, and they can be found from recognizable brands like Kohler. Most of the time, colorful sinks come in traditional vessel style, but there are more options on the market now for inlaid colorful sinks as well.
Your bathroom is one of the most personal rooms in your home. It's the space where you spend a lot of time preparing for the day and unwinding after the day is done, and why would you want somewhere that you spend a good portion of time to be drab! While calm, neutral bathrooms can be very beautiful, bringing in color can express individuality and make an inviting space to enjoy. So are you ready to jump into a bold bathroom?! If you are, get in touch with our design team today to schedule a free consultation to get the bright bathroom of your dreams underway today!
Maybe colorful kitchens are more your style, check out our blog about the psychology of color in kitchen design!