Nothing totally transforms the feel of a home like a freshly-updated kitchen, but did you know kitchen appliances typically account for at least 10% of a home's energy use? In fact the kitchen has the potential to be one of the least eco-friendly rooms in your house when you factor in energy use, water waste, and food waste among other things. However, you can still have a trendy and gorgeous kitchen that is efficient and healthy! If you're planning a kitchen makeover, chances are, you may have already thought about going green. Don't let the eco-friendly world scare you – we're here to help you navigate the most important elements – and help you transform your kitchen into a sustainable cooking paradise!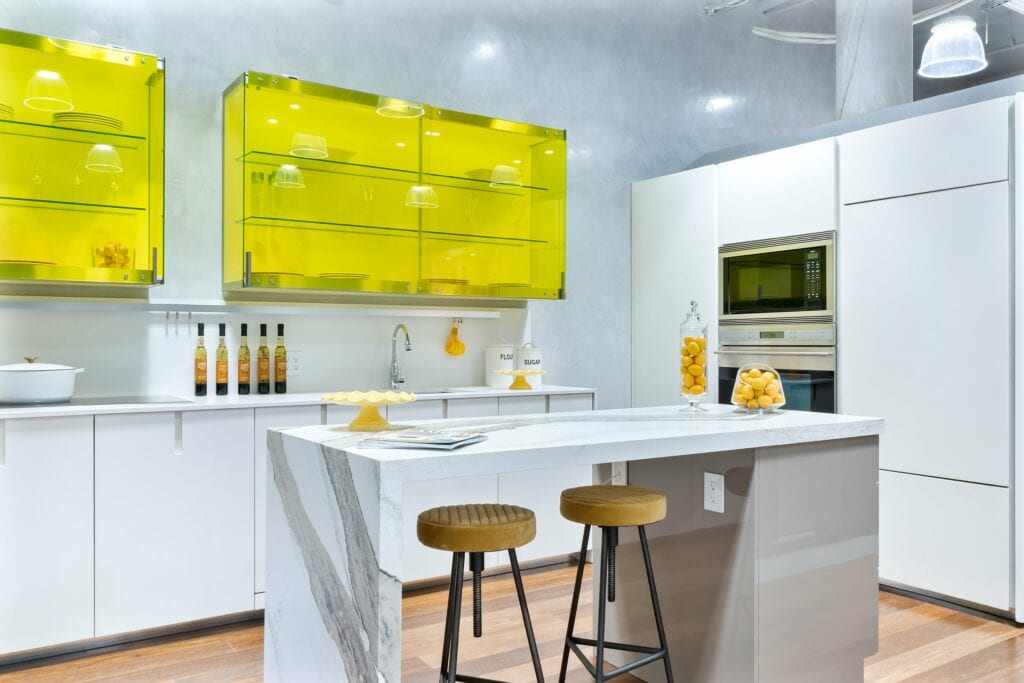 1. Countertop Materials 
There are a few different countertop materials you should be considering in an eco-friendly kitchen design. The most common would be quartz, which is a composite material made up of natural stone and resin. Cambria, one of our stone partners, has among the highest concentration of pure quartz to ensure strong, compact slabs! The production of quartz has less impact than the mining required for granite or marble, neither of which are a renewable resource. In addition to quartz being mainly maintenance free, it doesn't require toxic sealants and will last a lifetime without cracking or chipping.
Another countertop material that could be an interesting addition to an eco-kitchen is called IceStone. IceStone was created back in 2003 and is actually constructed from recycled glass and cement! Since it's conception, IceStone has diverted over 17 million pounds of glass from landfills and is manufactured right here in NYC. Not only is this an incredible option for an eco kitchen because of the ease of care, and materials, but it's also cool to note that the facility is daylit by skylights and is aiming to be 100% zero-waste. Not only will your countertops be eco-friendly and beautiful but you will be supporting an eco-friendly business as well!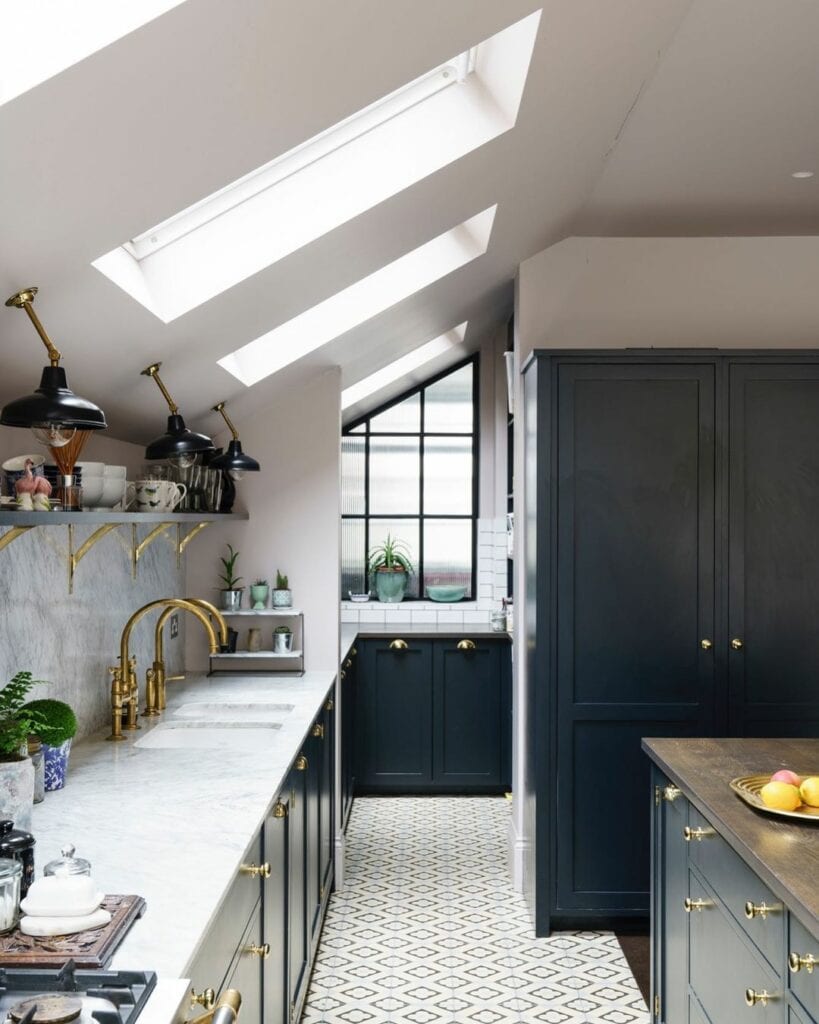 Photo via @happyseason.pt
2. Timeless Design
One of the best ways to keep your kitchen greener is to keep the design timeless so you don't have to constantly be re-doing your space; after all, part of sustainability is longevity. The more you have to re-do or replace, the less sustainable it is because it requires more resources to manufacture replacements. Products may require more toxins to be produced in order to paint, finish or seal it. You also have to consider the fact that you'll be using more fuel for shipping and transporting these items to and from locations. To combat unnecessary remodeling, keeping classic designs, neutral colors, and fun accents allows you to have a space that never goes out of style!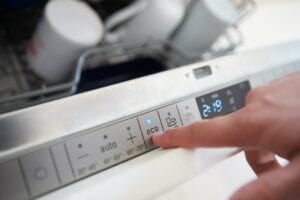 3. Energy Efficient Lights/Appliances
Natural lighting is the most efficient, cost effective, and sustainable lighting options available. If you can, make use of skylights to bring beautiful natural light into your space. As for bulbs, make sure to choose LEDs over traditional incandescents. LEDs are extremely energy efficient, available in a wide variety of colors, and have an expected lifespan of 10,000 hours over conventional incandescent bulbs. Another way to help curb your electricity usage is to install a dimmer switch. This will help you control the wattage and save some money.
When choosing appliances, it is much easier to be energy efficient today than it was 10 years ago. Refrigerators and dishwashers are the main culprits when it comes to waste in the kitchen, so upgrade these first. New modern induction range tops and convection ovens outperform their gas-based competitors. And as more renewable sources drive down the price of energy and we decarbonize our built environment, this will be the kitchen of the future!  Look for an HVAC system or appliances and lighting fixtures that have the Energy Star symbol to ensure they exceed current EPA guidelines for energy efficiency.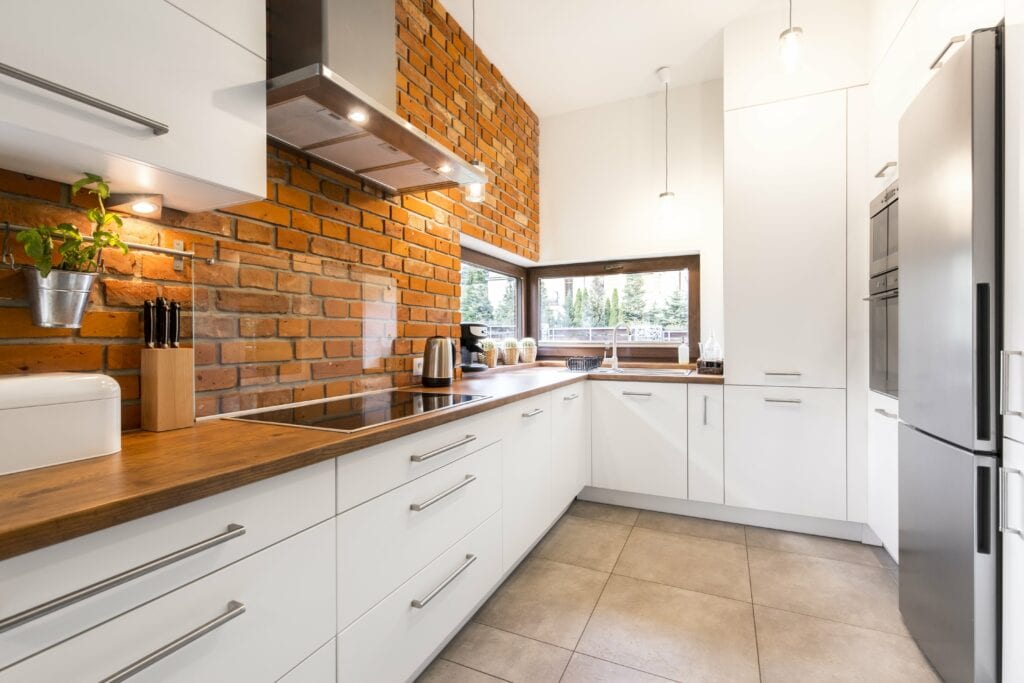 4. Reclaim, Reuse, Recycle
One of the best ways to keep your kitchen remodel green is to repurpose items you already own, or find them in good condition second hand. Using reclaimed materials is great for the environment – not only does it avoid said materials ending up in landfill, it also means less resources are used, both natural resources and energy, in creating your new kitchen. Another option is to keep certain pre-existing items in your kitchen as you do your remodel. Can you refinish your cabinets rather than buy new ones? Are there fixtures that you love that you would like to keep? Asking yourself questions about what can stay and be upcycled rather than replaced is a great way to create a unique, personalized, eco-friendly kitchen!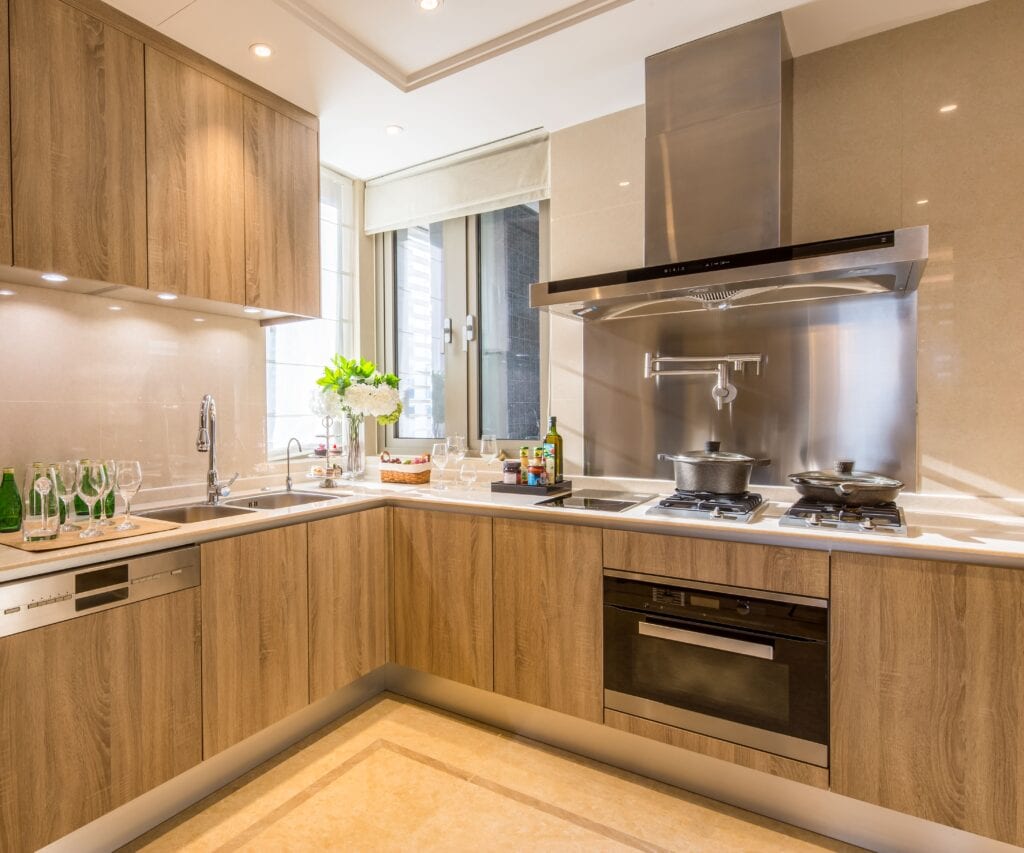 5. Cabinet Materials
Cabinets are often made from pressed wood products, such as particleboard, hardwood plywood paneling, and medium-density fiberboard. The problem is that these materials typically contain formaldehyde, one of the volatile organic compounds, or VOCs, that are emitted as gases from certain solids and liquids, including various paints, lacquers, and binders. Choose cabinets built with safer materials like formaldehyde-free woods, solid wood, recycled wood, reclaimed wood, FSC-certified wood, bamboo, or even recycled concrete. If opting for timber for flooring or cabinets, look for assurance that wood is FSC-certified and made with a non-chemical adhesive.