Kitchen Lighting
Kitchen lighting is one of the most important things to consider when you renovate your kitchen. Strategically placed lighting can, not only, make utilizing your kitchen easier, but can also create emphasis and stunning visual interest. Kitchen lighting can be broken down into three basic categories: Work/Task Lighting, General Lighting, and Accent Lighting. Each type of lighting can impact the overall feel and usability of your space, and it is important to examine your options and consider the overall layout of your new kitchen to get the optimal lighting for the space!
Types of Lighting
Task Lighting
Work lighting, or task lighting, is the lighting that is intended to make basic kitchen tasks easier. Whether it be washing dishes, preparing food, cooking, or cleaning up, task lighting is intended to light up the areas of the kitchen that ambient light leaves in shadow. Popular types of task lighting include, under cabinet lighting, above sink lighting, and under hood lighting. 
Under Cabinet Lighting
Under Cabinet Lighting can be considered both task AND accent lighting, creating a well illuminated space to work, while also having the ability to highlight intricate and impressive backsplashes and countertops. Light strips, and puck lights are the most common styles of under cabinet lighting. Puck lights are the more traditional option of the two. They are round, short lights that are placed on the underside of cabinets and can be recessed in the cabinet wood if desired. This style of lighting does not create quite as much spread as strip lighting, but they can create some visual interest with the shadows they create. Generally only about 2 or 3 inches in diameter, a good rule of thumb is to place them about 8-12 inches apart. Strip lights are the more modern under cabinet lighting option. These lights create a bright, even field of light on the countertop, and consist of light strips that can also be mounted to the underside of the cabinets, or recessed into the cabinet bottom. LED light strips are a popular option in today's market because of the safety and quality of light produced by LEDs.
Above Sink
When considering lighting for above your sink, first and foremost think of function. The sink is somewhere that you will spend time washing dishes, cleaning and preparing food, and doing a myriad of other activities, so having bright adequate lighting will be imperative. If you have cabinets above your sink, any of the above options for under cabinet lighting will be good options. However if you have a wall with no cabinets, or a window above your sink, there are other options that will be just as effective! For sinks that have a window behind them, we recommend a simple recessed light in the ceiling, this way you won't be blocking any natural light nor a view if you have one, but you will still have a good light source above your sink. If you have a wall behind your sink, or you're looking for something with a bit more personality that recessed lighting, consider a pendant light for above your sink. Pendant lights come in a variety of shapes, sizes, and colors making them a very versatile lighting choice, but we'll touch on choosing pendant lights more later.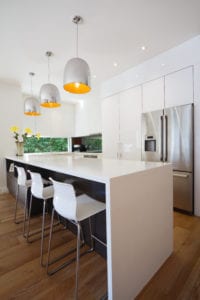 Under Hood 
Under Hood lighting is the last main source of task lighting. This essential lighting helps with preparing food, but can also be useful as ambient light or accent light in a kitchen. Besides cooking, these lights can be very beneficial when cleaning the stovetop! Though most hoods come with built in lighting, we recommend thinking about how many lights you may want to have under your range hood. Generally, unless it is custom built, range hoods will have one to four lights, some coming with a low-light level which is a nice feature for nighttime trips to the kitchen! 
Ambient Lighting 
Ambient lighting is considered the "natural lighting" or "environmental lighting" of a room. Meant to illuminate the entire kitchen, ambient lighting is the main lighting scheme of the kitchen, and is meant to help you get from point A to point B easily. While ambient lighting is responsible for making the lighting in your kitchen flat and even, it is not ideal for working closely with things or highlighting details. We've highlighted three of our favorite types of ambient lighting here for you!
Pendant
Pendant lights are probably the most popular, and one of the most versatile styles of ambient lighting. This type of lighting allows you to have your personality to shine through with the selection of the metal, materials of the shade, and size of the pendant. When choosing pendant lighting it is important to take into consideration the size of your space. While larger rooms will benefit from pendant lights with larger shades in order to fill the space, whereas smaller rooms may feel overwhelmed by larger lights. Another thing to take into account when choosing your pendant lights is the size of the surface you're looking to illuminate. When lighting objects like kitchen islands, you'll probably want to use more than one light, but for something like a kitchen table, single lights will probably have the more desired effect. Pendant lighting can fall into a few other categories as well, such as decorative lighting, general lighting, or sometimes even task lighting!
Chandelier
Classic pieces that work well in foyers, over dining tables, and in the kitchen, chandeliers are a beautiful alternative to their cousin, traditional pendant lights. Introducing a chandelier to your kitchen adds a touch of softness, and glamour to the space. Though many people think a chandelier can only be used in opulent, traditional style kitchens, there are actually many chandeliers that can compliment industrial and modern spaces! Pieces with fun geometric designs, or minimalist metallic finishes can be a beautiful addition to a contemporary kitchen while still granting the space the grandeur that a chandelier demands. A chandelier is a statement piece, and is a great way to inject your personality into your new kitchen! Play around with material choices, bulb styles, lamp shades, shapes, and sizes, and find what works best to complement your space.
Tip: If your kitchen feels too small for a grand chandelier, or you don't want to overwhelm the other features of your kitchen, consider a mini chandelier over your sink to add some charm!
Recessed
Recessed lighting is one of the most common forms of ambient lighting in a kitchen. This type of lighting distributes moderately disbursed light over a large area, creating even light dispersal. Popular in modern, contemporary, and industrial kitchens, many buildings in New York have started to convert to this style over pendant styles in kitchens, livingrooms, and other common spaces. To choose your recessed lighting take beam spread and the size of the space into account. While you can find charts to help you determine this, our design and build teams are fully equipped to take the measurements and install the recessed lighting into your new kitchen to give you optimal kitchen lighting!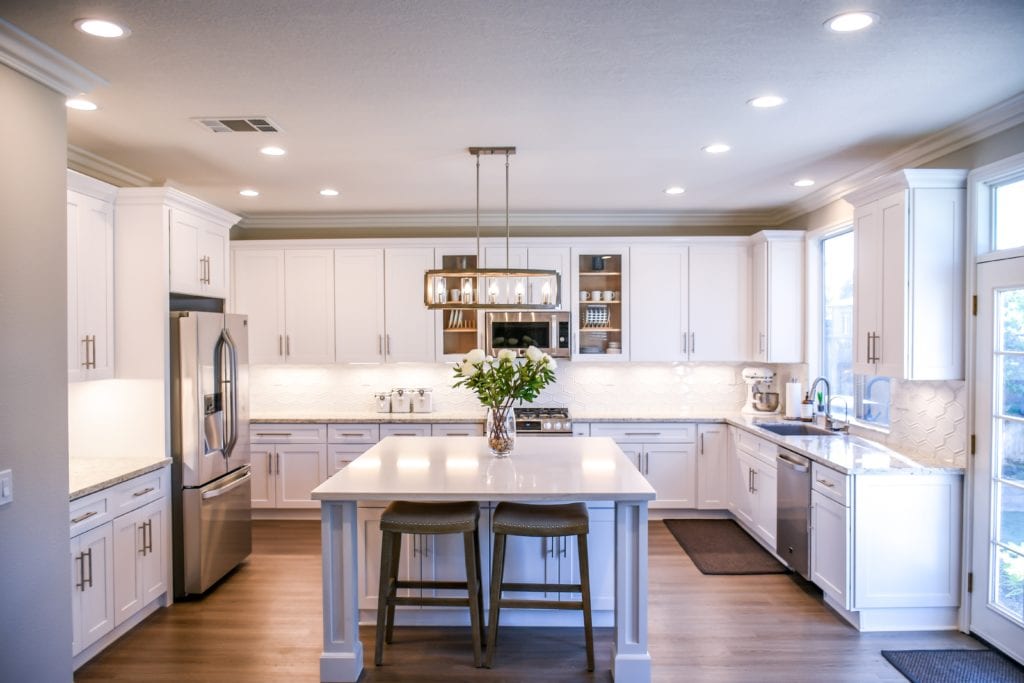 Tips for lighting an island: Lighting your kitchen island may feel like a daunting task, but these easy tips will help you get the optimal light fixtures for your island!
Depending on the size of your island size of your island you can determine if you want to use 3-4 smaller pendant lights, or 1-2 large statement lights or chandeliers 

Keep in mind all of the activities you perform at your island. Everything from chopping vegetables to entertaining guests can happen around a kitchen island. You can consider adding a dimmer for your island lights to get the optimal brightness for each task!

A good rule of thumb is to suspend your island lights anywhere from 24-38 inches above your island.

Linear chandeliers are a beautiful way to light the top of a kitchen island because the fixture comes with multiple lights that are spaced to provide optimal lighting conditions. These fixtures are becoming more and more popular and range in style from vintage, to rustic, to sleek and modern!
Have more questions about lighting your kitchen island? Get in touch with our design experts today to discuss how to get the optimal lighting for your kitchen!
Accent Lighting
Accent lighting is the cherry on top of a beautiful kitchen! They provide visual interest and focal points to your space by drawing your eye to particular objects or areas. Often used to highlight architectural details, artwork, or other pieces that you want highlighted in your kitchen, accent lighting is the best way to create subtle visual direction as well as beautiful ambiance. Some ambient light can actually cross over with task lighting; for example under cabinet lighting. We recommend that all accent lighting be put on either one dimmer switch, or multiple dimmer switches (one for each individual type of accent lighting you choose), so that you can control when these lights are utilized and how much light they give off!
Tip: When designing your kitchen ensure that you are not solely using accent lighting! This gives off an undesirable aesthetic because you will be highlighting the objects in your room over the people who are in it. It will also make the kitchen less functional because it will not be well lit. Remember, accent lighting is meant to highlight beautiful features in your kitchen, not distract from the space as a whole!
Cabinet Lights
Lighting your cabinets from the inside is a wonderful way to highlight fine china, statement pieces, or even just bring some elegance to your everyday dishes! Created by using either recessed striplighting or small spotlights, this type of lighting adds depth and visual interest to a kitchen. Certain cabinet lines can even install strip lighting along the edges of the cabinets, making them less apparent and giving a more glowing appearance. To tone down the light, you can ask your designer to make the glass panels on your cabinets frosted, textured, or more opaque.
Toe-Kick Lighting or Above Cabinet Lighting
We grouped these two types of accent lighting together because they are basically the same, but one shines onto the floor, while one illuminates the ceiling. Toe-kick lighting highlights the underside of base cabinets. Seen in many high-end kitchens, this style of accent lighting creates a unique sense of emphasis when applied to the base of an island, but can also be placed around the underside of all the base cabinets around the kitchen for a real "WOW" factor! Above cabinet lighting creates a similar effect, but just on the top of your upper cabinets. This lighting addition creates beautiful ambient light, and by moving lights upwards out of direct eyeline, they still remain effective yet less overbearing. We find that both toe-kick lights and above cabinets lights are beneficial for late night kitchen excursions when other kitchen lighting may be glaring or obtrusive. Both of these accent lights can elevate your kitchen from something beautiful but ordinary to absolutely extraordinary!
Emphasis Lighting
Finally we come to emphasis lighting! This style of lighting is used primarily for highlighting architectural details, or for calling out a specific feature in the kitchen. Generally this type of lighting is spotlighting. Spotlights give the best directional light and are wonderful for calling out specific features of your kitchen because they are generally bright (though if you want they can be put on dimmers) and they light a narrower space. Spotlights are one of the most versatile styles of lighting, they can be accent/general lighting when they are recessed in the ceiling, or task lighting when installed under cabinets or over ranges! If you have any features of your kitchen, like unique architecture or beautiful fixtures, or even a piece of art that you want to highlight, let your designer know during your consultation and planning phases so that you can bring your favorite features to life!