Each new year is a chance for us to start over refreshed and take on the future with excitement. In the past year, many of us have discovered our homes no longer worked for us, and as a result the number of home renovation projects skyrocketed! 2021 is going to be a big year for renovations to make our homes as comfortable and accessible as possible. Since the kitchen is the heart of the home, we decided to start there! Take a look at some of these incredible trends that we think are going to be big this year!
Colorful Kitchen Islands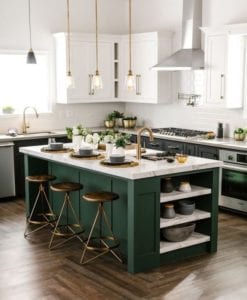 (image via digsdigs.com)
We're seeing much more colorful kitchens that are moving away from feeling like sterile restaurant prep spots, to more of a continuation of the rest of the home. Kitchens are rife with color opportunities, from appliances and flooring, to window treatments and cabinets and of course the ever important kitchen island. Making the island pop with a bright color like teal, yellow, or purple, will allow it to stand out and contrast with other black or white cabinetry. What color do we think is going to be the biggest this year? Green, from vibrant to mossy to dark army versions, or if you're feeling particularly adventurous, even mint, will be the color of choice for kitchens this year!
Dark Moody Kitchens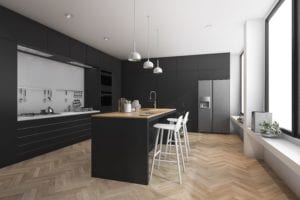 Often overlooked as purely an 'accent' color, black walls, cabinetry and work surfaces are having something of a moment. Black becomes liveable, luxe and inviting, when adding in textured woods for a rustic, homely charm. As we say goodbye to the all-white kitchen, designers have noted that there has been a strong gravitation to the moody or dark kitchen. Gorgeous noir and black shades are hot for 2021, and cabinets that take on this darker hue will look incredible with matt surfaces and a handle-free look. You can go big with black quartz countertops and cabinetry, or introduce it in a smaller format such as appliances or fixtures!
Touchless faucet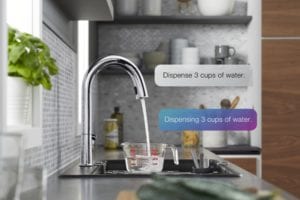 (image via us.kohler.com)
According to the 2021 NKBA trend report, motion-control and hands-free faucets, as well as touch-tap faucets, will be more popular than a traditional lever kitchen faucet. The no-touch process from start to finish, translates into fewer germs being transferred onto surfaces in the end, which is always a good thing but in current times, more important than ever. For the first time, voice-activated faucets made an appearance on the report. This new faucet feature is not only more hygienic, but it can also help you be more productive in the kitchen, too. Now, through simple commands, you can turn the water on to wash your hands or dispense the exact amount you need for pasta or soup!
Decorative Rangehood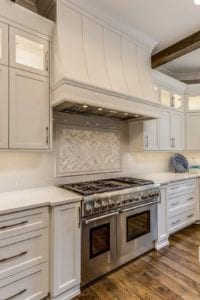 Kitchen design is veering away from hidden ventilation and turning to the range hood as a decorative focal point. There are a few ways to make your range hood a design marvel, but it doesn't necessarily have to be ornate to stand out. For instance, a hood that extends beyond the cabinetry profile or features an accent color (maybe black like we mentioned earlier!) can go a long way. Consider using natural materials and wood tones to create an eye-catching range hood. Another way to create unique and trendy range hoods is to incorporate the hood right into the wall! Bring your backsplash tiles or stone up to meet the hood, and continue the pattern across the hood for a unique and eye catching range hood.
Larders Can Double as Work Spaces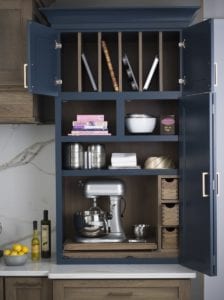 (image via. Straight Line Kitchens)
The trend for
continues to be a key design choice due to its practicality. For those with smaller kitchens, the need for clever storage in this space is crucial in terms of utilizing every inch you have. In bigger, minimalist kitchens, clever storage allows for clutter to be easily tidied away. With the pandemic increasing the need to work quite efficiently from the comfort of your own home, homeowners have gotten creative with storage solutions. Larders which were originally used for storing and preserving foods, have started to be turned into storage for home office supplies, and even small office spaces. If done well, kitchen larders can become makeshift desks for those with minimal space, housing laptops, pens and even printers! It's a great way for people living in tight NYC apartments to create a multifunctional space.
Wood Cabinetry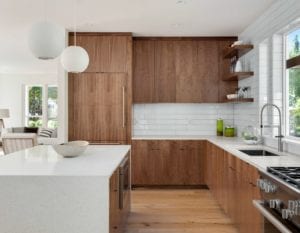 Out of fashion for a while, wood is now enjoying a bit of a revival. We have recently seen a rise in walnut cabinetry. It's rich, dark color, fine grain and natural warmth are prized by makers for its feeling of instant luxury. However, as trendy as walnut seems to be, it's important to select cabinet wood finishes that complement your wall color, whether a similar shade or a contrasting color. If you're looking for something a little more homey, and definitely more eco-friendly, reclaimed wood is the way to go. While reclaimed wood can lend itself to a rustic feel, by pairing it with modern fixtures, lighting and cabinetry styles it can feel fresh and contemporary. From bamboo to even recycled plastic bottles, cabinet companies are taking this revival of reduce and reuse very seriously.
Accent Lighting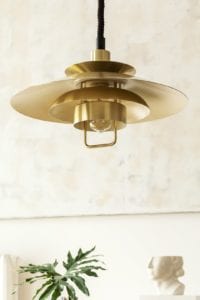 We've spoken about lighting a few times on our blog, and the trends this year just reinforce how important lighting is to make a kitchen not only beautiful but functional! It not only provides essential functions such as lighting the counter while you are cooking or eating, but it also sets the mood of the space. Dimmable accent lighting is going to be a major focus of kitchen design for 2021. You can spotlight eye-appealing kitchenware and cool cookbooks, transforming these everyday objects into works of art. On another note, pendant lights are still going strong in kitchen lighting design. This year we are seeing more woven lights, creating a breezy, relaxed feel to the kitchen. Made from natural materials such as bamboo or rattan, these light-hued pendants add contemporary, natural vibes to kitchens. However, if you're looking for a futuristic, and sleek modern vibe bar pendant lights are also on the rise. Clean lines, and sleek design, the futuristic lines of bar-style pendant lights tend to work well over kitchen islands.
Energy Efficient

Many of us are becoming much more aware of our carbon footprint, meaning that we are looking for ways to give back to the planet and reduce waste. One of the biggest trends we are seeing in 2021 is the move towards more eco-friendly and energy efficient materials. Everything from energy saving appliances to energy efficient windows are starting to make their way more and more into the mainstream of interior design. In fact, earth-friendly products are available in a wider range of styles and costs than ever before! Green products reduce exposure to air pollutants. For example, volatile organic compounds (VOCs) typically are emitted by paints, wood preservatives and other sources. These gases have short- and long-term health effects, including symptoms that range from eye, nose and throat irritation to cancer. Eco-safe paints are VOC-free, as are cabinets, countertops and flooring.
Statement backsplashes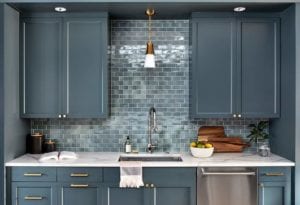 (image via houseandhome.com)
Backsplashes are a great way to introduce some character into your kitchen! colored stone that seamlessly transitions from the backsplash to the countertop. There are a slew of artful backsplash ideas you can pick from to design a unique statement feature.Instead of thinking of backsplashes as just another expanse of wall we believe that homeowners should choose backsplashes they love and these unique and creative statement backsplashes are going to be in 2021. Something that is up and coming in kitchen design is replacing the typical tile backsplash with a stone one that matches your countertop. If you're not a fan of small tiles as a backsplash, utilizing slabs of stone or metal is a great way to create drama in a clean and solid way. Another super interesting backsplash trend we are seeing this year is glass backsplashes. Moving from glossy finishes on cabinets, to glossy backsplashes allows you to play with shine while making the rest of your kitchen feel current.

(image via washingtonpost.com. Kitchen by Zoe Feldman Design)
If you're considering an updated look for your kitchen this year, mixed metals are one trend you might want to try. Mixing metals has been a prominent design trend in recent years and experts say there's no indication this will change. While mixing metals can help create a stunning historical feel, there are absolutely ways that you can make mixing metals feel contemporary and fresh! Utilizing metals that compliment cabinet colors or countertop colors can create a beautiful focal point or even make the hardware blend in making knobs and handles virtually disappear. For instance, bronze or gold hardware on dark backgrounds will make them stand out and become a design focal point, whereas silver on white can blend in. By using a warmer tone on some elements then silver or nickel on others you can use appliances finishes to tie everything together intellectually and visually!
Hopefully these trends got your creativity flowing! If you're curious about what style of kitchen would best suit you take our fun quiz, or get in touch with us to schedule a free consultation!