November is the month for reflection and giving thanks…but it is also the month for Thanksgiving! Thanksgiving means lots of food, lots of fun, and lots of love. Though our Thanksgiving's may look different this year, we can still make an incredible meal for ourselves, our roommates, or our families who live with us. Thinking of the monumental task of cooking for this eating marathon, can sometimes feel quite overwhelming, so we decided to give you a list of the appliances, both big and small, that we think are the most helpful for the upcoming holiday!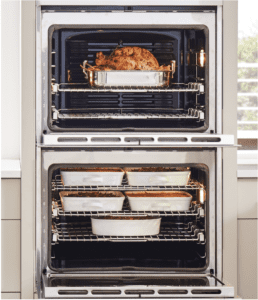 (Image via https://www.subzero-wolf.com/)
Double Wall Convection Ovens
Our first recommendation is of course in reference to one of the main cooking appliances in the kitchen: the oven! When cooking for large crowds, or even just a few people, having a built-in double oven is such a game changer. Not only are you able to cook two or more dishes at different temperatures, but it allows you to cut down on cooking time by utilizing both ovens at once. Currently, one of our favorite built-in ovens is the Wolf 30″ M Series Contemporary Stainless Steel Built-In Double Oven. Combining the incredible Wolf standard of technology, with a stunning sleek design, this oven is a modern marvel! Something unique about this oven is the Dual VertiCross™ convection system, which allows the oven to preheat faster, and cook food more consistently! Convection ovens are great for cooking turkeys, stuffing, and other Thanksgiving goodies because it creates a dry environment allowing sugars to caramelize faster, meaning meats to get browner faster. They also are more energy efficient than traditional ovens because they cook food faster at lower temperatures!
https://www.subzero-wolf.com/wolf/ovens/m-series/30-inch-m-series-contemporary-stainless-steel-built-in-double-oven
(Image via https://www.amazon.com/ )

Air Fryer
Air Fryers have gained a lot of popularity in recent years, and we can see why! Air Fryers allow you to get super crispy delicious foods without the greasy oil you would need to fry things traditionally. We personally love the Chefman 6.3 Quart Digital Air Fryer because it does so much more than just create crispy treats. This air fryer dehydrates, roasts, and bakes- it is an incredible all-in-one tool. If you're looking to make some delicious crispy Brussel sprouts, succulent green beans, stunning ham, and of course juicy turkey, an air fryer could be the perfect tool for you! In essence it is basically a mini-convection oven, so if you have a traditional oven with no convection feature, or an oven that has a convection feature but you're looking to optimize your cooking time with another mode of cooking, look no further than this amazing air fryer!
(Image via https://www.williams-sonoma.com)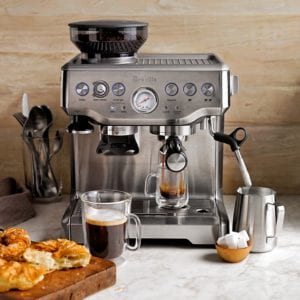 Espresso Machine
There is nothing quite like ending a great meal with an even better coffee. We at Klein are big espresso fans, and we wanted to share one of our favorite espresso machines with you. The Breville Barista Express Espresso Machine, is the Cadillac of home espresso machines, while still being accessible enough for novice coffee buffs. This espresso maker allows you to make your favorite coffeehouse creations right in your own kitchen- so if you like cappuccino, but your mother-in-law is a macchiato fan, and your brother likes a double espresso, you can easily give all of them their favorite after dinner drink! 15 settings allow you to customize your coffee grind size and of course the built-in milk steamer will give you perfect froth every time. Our favorite feature though? A brew-temperature gauge! Never be scalded by hot coffee again, because you can choose how hot you make it!
https://www.williams-sonoma.com/products/breville-barista-express-espresso-maker/?pkey=cthanksgiving-electrics&isx=0.
(Image via https://www.oster.com)

Roaster Oven with Self-Basting
If every Thanksgiving you are stressed about making sure your turkey is moist and well basted, then this is the appliance for you this year! Oster® 22-Quart Roaster Oven with Self-Basting Lid is a revolution in turkey cooking. With the capacity to hold up to a 26 pound turkey, this single machine will ensure that you get an incredible Thanksgiving centerpiece year after year. Not only that, you'll save 30% more time for cooking and use 36% less energy than a traditional oven! Of course this isn't just for turkey though, you can cook anything from your stuffing, or side dishes, to dessert. One of the best features is the "Keep Warm" feature that allows you to cook ahead of time, and keep things at the perfect temperature for serving!
https://www.oster.com/oster/oster-22-quart-roaster-oven-with-self-basting-lid-stainless-steel-finish-ckstrs23-sb-w/CKSTRS23-SB-W.html
(Image via https://www.appliancesconnection.com)

Bosch Dishwasher
After all is said and done, and the last dinner roll has been eaten you may be faced with a mountain of dishes that need to be done, and having a reliable dishwasher will be a life-saver in times like this! Bosch has a time tested reputation as being one of the top dishwasher, and kitchen appliance lines in the business which is why we have no problem recommending the Bosch 800 Series 24 Inch Built-In Dishwasher to handle all of your Thanksgiving dish build up. With 6 wash cycles, and space for up to 16 place settings, this dishwasher can handle big loads and deliver big results. Super quiet and super sleek this dishwasher will fit-in seamlessly with your kitchen and not cause disturbances to anyone napping in post-thanksgiving food-comas. One of the best features is the CrystalDry technology from Bosch, which turns moisture into heat, making dishes up to 60% dryer! No more waiting for dishes to dry before putting them away, meaning cleanup gets done faster, so you get back to family time.
https://www.appliancesconnection.com/bosch-shpm78z55n.html
We hope that everyone has a very lovely season of giving, and that your Thanksgiving is filled with love and joy. The Klein team is here to make sure that your kitchen is ready for whatever your holiday cooking season looks like this year, so to get started before the holidays, get in touch with us today to book a free consultation.