When it comes to bathrooms, color combinations are very important. You might want to add life and vibrancy or choose to create a soft ambiance setting. While color combinations can be tough to choose; there are a few classic ones that you can use and opting for bold mixtures is not such a bad idea either.
To pick a color combination, there's a rule that can be used as a guideline which is called the rule of three. This rule is based on picking a rich color, a neutral one and a third one for bathroom accents. For example, let's say you pick turquoise, green and navy blue.
The strongest color which is navy blue is your base, that should cover at least 70% of your bathroom, the middle color would be apple green covering 20%, and lastly, turquoise must cover 10% with accents.
The rule of three is not mandatory nor standard, you can stick to two colors if you want. Based on that, here are our favorite color combinations.
Aqua, yellow and grey
This mix provides a playful and modern vibe to any bathroom. It's a great combination to soften the edges if your bathroom has sharp angles and geometric spaces.
Navy blue and white
The classic navy blue and white combination was very popular and it still is. Along with navy elements such as an anchor, sea shells and boats, this combination is classic and beautiful.
Black and red
This one is very popular and has certain elegance. Red is a very bold color, and with a dash of black it gives your bathroom a whole new modern perspective.
Earthy colors (beige, terracotta, brown, gold)
If you want to be a bit more conservative with color combinations, you can go for earthy colors for your bathroom. It's classic, simple and elegant.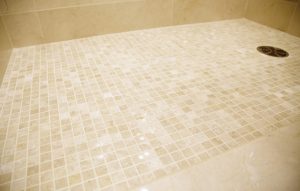 Navy blue and lime green
Don't be afraid of trying two bold colors; they can add vibrancy and life, especially to small bathrooms.
Yellow and white
Warm and a very home-like combination. It looks elegant and at the same time modern.
White and white
Looking to make a small bathroom big and bright? There nothing like the classic white bathroom for a bright clean look that maximizes the space.