Next to the kitchen, the bathroom might be the most hard-working room of the house. Guest bathrooms and master bathrooms are the two most popular rooms renovated in the United States, following the kitchen, and can be one of the most detail oriented. Your bathroom needs to be calming and practical and, ideally, a little bit luxurious. There are a lot of things to consider and a whole plethora of decisions to make, and it might feel overwhelming trying to navigate hurdles like small space or little natural light. Don't panic, we're here to help! We've compiled a guide of some of the most important things to take into consideration when remodeling your bathroom. Read on for our tips: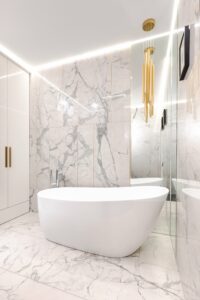 Tubs vs Showers
While there are pros and cons to both tubs and shower stalls, when it comes down to choosing which style is best for your bathroom, it really comes down to space and lifestyle. While bathtubs are great for families with children, and those who love luxurious bubble baths, they are not as conducive to the elderly or handicapped. Not only will this choice impact the rest of the design, but it will also impact who can and how they can use your newly remodeled bathroom!
Bathtubs tend to raise a property's value and are appealing to realtors because they can market the house to families and people with pets. They make bathing small children easy, allow for a relaxing soak for the adults, and this feature can definitely increase your ROI when it's time to sell your home! Bathtubs come in a variety of shapes, sizes, and colors, which means that they can be worked into multiple different bathroom styles. Many manufacturers are now actually producing shorter deeper bathtubs so that even tight bathrooms, like the ones you find in NYC, can fit a soaking tub!
If you're more inclined to a shower stalls, there are also good things to note to help inform your ultimate decision. Shower stalls overall have a smaller footprint than a bathtub, making them the go to for small spaces. An average tub can take up about 15 square feet (when not customized to be smaller), whereas a typical showerstall takes up about 13. Though those numbers may seem similar on paper, when you are trying to make the most of a small space, it will make a huge difference in person! Shower stalls are also more eco friendly because they use less water. They can be customized just as easily as bathtubs to include multiple shower heads, built-in wall jets, speakers, and more! In fact, Moen recently introduced the U by Moen, which is a smart shower system that actually learns your preferences in temperature, has an auto start feature, and is compatible with Alexa, Apple HomeKit, and Google Home. Want to know more about the pros and cons of shower stalls and bathtubs? Check out our blog on the topic.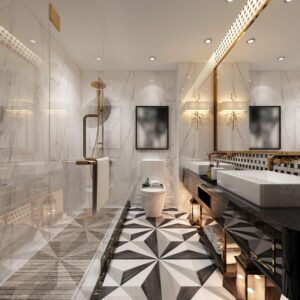 Tile Choice & Grout
One of the first things you think about when you're designing a bathroom are your tiles. The shape, color, texture, size, and finish can influence the whole style and design of your bathroom. To pick your bathroom tiles, the first step is to choose the tiles you can't live without. This is the one tile that we dream of including in our design. Sometimes it is a really special or unique accent tile and sometimes it is as simple as knowing that you want white subway tile. Once you are able to determine what you can't live without, it will be easier to determine what will play off of those tiles well. We recommend sticking to no more than three styles of tile, your base tile, your floor tile, and an accent tile- this will help keep the space from looking disjointed and create a sense of harmony!
The grout may seem like an unimportant afterthought in the overall design of your bathroom. However, it is one of the most important technical factors in the space. It seals out dirt and water, compensates for small size differences between individual tiles, and firms up the structural integrity of an installation. To choose the right grout for your bathroom there are a few things you should ask yourself; Do you want the grout to stand out or blend in? Is the grout in a high splash zone, or a fairly dry place? In high splash areas like shower stalls, and backsplashes synthetic grouts hold up best. Grout also comes in a variety of colors from black to pink, and of course the traditional white. Colorful grout could be a great way to inject some flare into an otherwise white bathroom.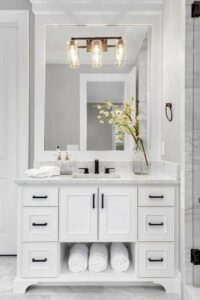 Storage
Bathroom storage is a major piece of renovating a bathroom, but oftentimes it can be overlooked. Whether you are looking for a sleek, modern space, or a spa like oasis, adequate storage is a must. You need enough cabinets, drawers, and shelving to comfortably fit all your bathroom items like toiletries, towels, toilet paper, and other personal items, and ideally with a little room to spare for future items. It's important to get creative with your storage solutions, particularly in the small bathrooms that you find in NYC. Looking for storage opportunities, even small, simple ones, when drawing up your plans, to make them feel integrated and not added-on. Recessed medicine cabinets, tall shallow shelving, and under vanity storage are great ways to introduce much needed storage space into your bathroom. Your vanity should house things that are used daily that you need easy access to.
Vanities
Vanities are a direct link to your storage solutions in your bathroom. They can have cabinet space, drawers, double sinks, and pull out shelves among other things. It's important to think about how and how often your vanity will be utilized. For instance, powder room vanities and master bath vanities will probably get more usage than guest bath vanities. This will determine the materials used as well as the size. While you may think that vanities are a "one size fits all" item, it's not actually that simple. Choosing the right sized vanity can impact the overall appearance, and flow of your space. Get one too big and you could mess up your bathroom's traffic routes. Too small and you'll be scrambling for more countertop space and storage.
Vanities are not only about function though, they are also about form. A vanity can be a beautiful statement piece in your bathroom, and we recommend not skimping on this particular aspect during the design process. Options that feature double sinks, large mirrors, and plenty of storage are on-trend. If possible, opt for one with a luxe top in a material such as granite or marble to add even more visual interest to the space.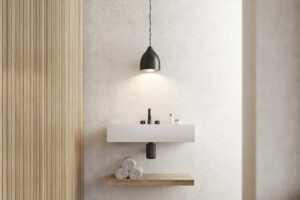 Lighting
Bathroom lighting can be an overlooked aspect of your design. You may think to just put in one top light and be done with it, but strategic bathroom lighting can not only make tasks easier as well, but highlight your space and design as well. After all, you don't want your design choices to go unnoticed after spending the time and money on a renovation!
When making a lighting plan for your renovation, take note of any natural light (or lack thereof) from windows, and where mirrors are too so you can take into account reflection and refraction of light. These things may seem minor, but they will influence where you put your lights, how many lights you need, and if the types of lighting you need to install. The best way to go about your lighting scheme is to incorporate layers of task, accent, ambient and decorative lighting. These types of lighting are actually very similar to the types of lighting in your kitchen, and if you want to learn more about these in particular head over to our blog Everything You Ever Wanted to Know About…Kitchen Lighting. For instance, you will probably want to focus lighting around your vanity mirror. Grouping bathroom lighting over, or to the side of, a mirror will ensure that they're working where they're most needed. On top of that the light will refract in the mirror creating even more light in the space!
Lighting is also imperative for small spaces, because the brighter your bathroom, the larger it looks. Good, bright lighting combined with a light color on the walls can make even the smallest bathrooms feel airy. Clever light placement can also help set up focal points in the space, highlighting a particular zone in the bathroom is a neat design trick that will help your room feel well-designed.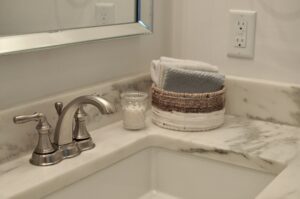 Outlets
There's nothing worse than getting your bathroom remodeled, and going to get ready the next day only to realize that you don't have enough outlets to plug in your hairdryer, your electric shaver, and your toothbrush charger! When you're designing your bathroom, ensuring that you not only have enough outlets, but that your outlets are accessible and well placed is extremely important. Of course, we want to make sure everything is safe and up to code, and there are a few important things to note about adding in new outlets to your bathroom:
Outlets cannot be located above or closer than 36 inches to the bathtub.
Outlets must be on at least one dedicated circuit that doesn't include the lights, so that high-watt appliances won't trip the entire bathroom electrical system and leave you in the dark.
No installation of outlets in a face-up position on the countertop.
As you work on your lighting design you can think about the overall electrical layout of your bathroom. Start by taking stock of how many electrical items that must utilize an outlet and how many need to utilize outlets at more than one time. If you have multiple items running simultaneously, more circuits and outlets can be added to accommodate the load. Items that need to charge when not in use will also need to be accounted for. Outlets for these devices can be placed inside appliance storage areas to keep your counter clutter-free. Outlets can be installed inside cabinets and drawers, and on shelves. Finally, keep aesthetics in mind even with your outlets. Conceal them in drawers or cabinets, camouflage them to blend into mirrors or walls, or create a compliment to have them match other details in your bathroom!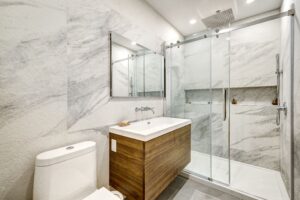 Layout & Sizing
Laying out your bathroom can make or break a design. Having a layout that flows and is visually appealing, is just as crucial as having one that is functional and accessible. By organizing functional areas around a central space, you give the bathroom plenty of open space no matter its size. Space planning all depends on your lifestyle and the way you use the space. However, keep in mind when planning that if you must move the plumbing to accommodate your new design, the price tag of your project.
When choosing the layout for your bathroom, two of the first questions to ask yourself are "who will be using this bathroom" and "how often will they be using it". Creating and laying out a bathroom for a young couple, may look completely different than a bathroom for a family with small children, and that could look totally different than the bathroom for an elderly person. Thinking about who will use the space and how will dictate what features the bathroom needs. For instance, if you are big on getting ready and doing your makeup in the bathroom, a bright wide vanity is the way to go. If you have elderly people living in your home, a walk-in shower with a bench is ideal. If you want the space to accommodate more than one person at once, you will have to accommodate that with ample floor space, privacy in the right places, and possibly a double sink.
All of these features however, will be determined by the physical size of the room. Withstanding knocking out walls, you'll have to determine the best layout of your space based on the square footage of the room, and in a bathroom every inch counts. In addition to dealing with the square footage limitations you have to take into account building codes and regulations. There are regulations you must adhere to when placing fixtures in the space—space allowances for the toilet, sink, shower, tub.
The first and easiest layout that you can look at is called the "three-in-a-row". This is an efficient, simple bathroom design that keeps all the plumbing on one wall. In this style, it is unlikely that you will need to move your plumbing lines around, thus lowering the overall cost of the renovation. Despite its efficiency, this layout can sacrifice on creativity and uniqueness because it is a common design, and has set limitations. This design can also be effective if you decide to expand your bathroom, and can allow for a beautiful double sink in a more public area, and then have a pocket door into a toilet and bath/shower room.
Next there is the "opposite wall" layout, which pretty much speaks for itself. From a space point of view, this one usually takes up more room but it provides a much more generous layout. Because the plumbing is not on one wall, this option is more pricey than the "three-in-a-row" but it offers more flexibility in the overall design and layout. This layout can work for almost any sized space, for instance the traditional 5×8 bathroom that the "three-in-a-row" is usually seen in, can easily become a "opposite wall" design.
The last layout we'll touch on (even though there are quite a few more) is the super small bathroom with a corner shower. While this isn't the ideal layout for many spaces, or many people, when you live in a city like New York you may not have a lot of room to work with so it could be your only option. As straightforward in its description as the "opposite-wall" layout, this design is built around a corner shower. These showers can be a square, small rectangle, or have three panes of glass that form a more rounded design. Corner showers for small bathrooms are most suited if you are not a tub person or you don't have enough space to put in a bathtub that fits your size requirements as well as that of the bathroom area. While this is a great solution for small spaces, corner showers can also be installed and designed into larger spaces if this is a style you're interested in.
Ready to start your remodel? Get in touch with our designers today!