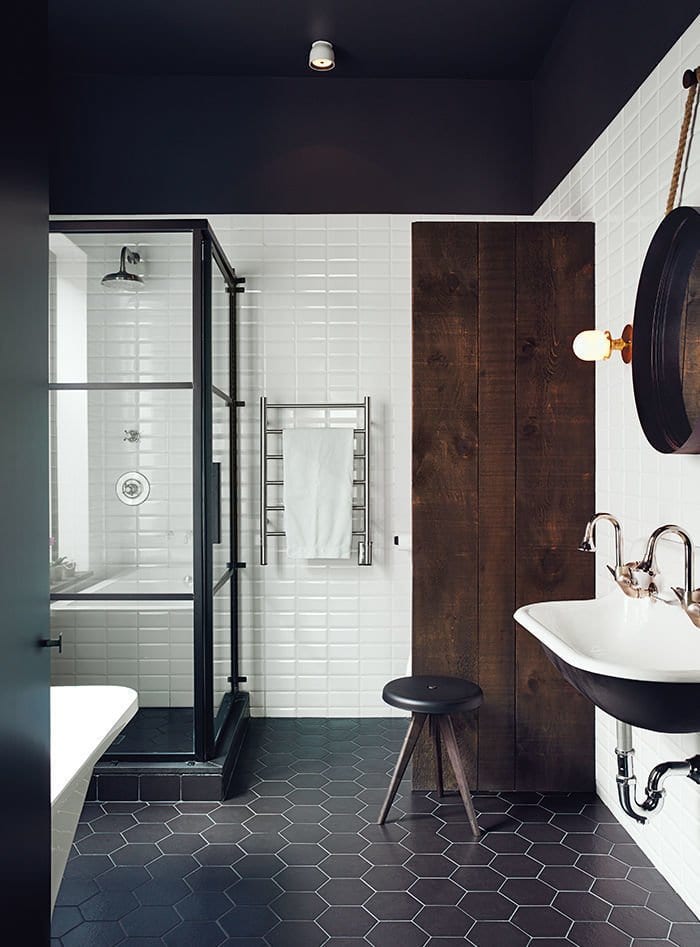 Industrial Minimalism
Industrial Minimalism continues to be a booming style trend this year! This style combines the classic simplicity that is minimalism with the organic, unfussy materials of industrialism. The industrial style strips back frilly architectural detailing, leaving clean lines and predominantly raw materials such as woods, mentals, and concrete. Neutral color palettes, and simple tiling are a standard rule of this style of design. Consider simple subway tiles on the walls, in a light grey or white, with large, statement black hexagonal tiles on the floors. Give some more consideration to your fixtures, and treat them as specialty items. Adding touches of matte black, white, or copper in your fixtures and accents is a great way to bring some visual interest to the room without fussing up the space. Combining minimalism with industrialism, begets a tranquil uncluttered environment that eliminates superfluous design features and by creating a dedicated space for everything, you ensure that needless items stay out of the room. This style is all about getting the most value from what you have in the space; invest in good quality materials and items that will last and stay timeless. It is definitely possible for minimalist spaces to create a powerful visual impact despite the lack of accessories!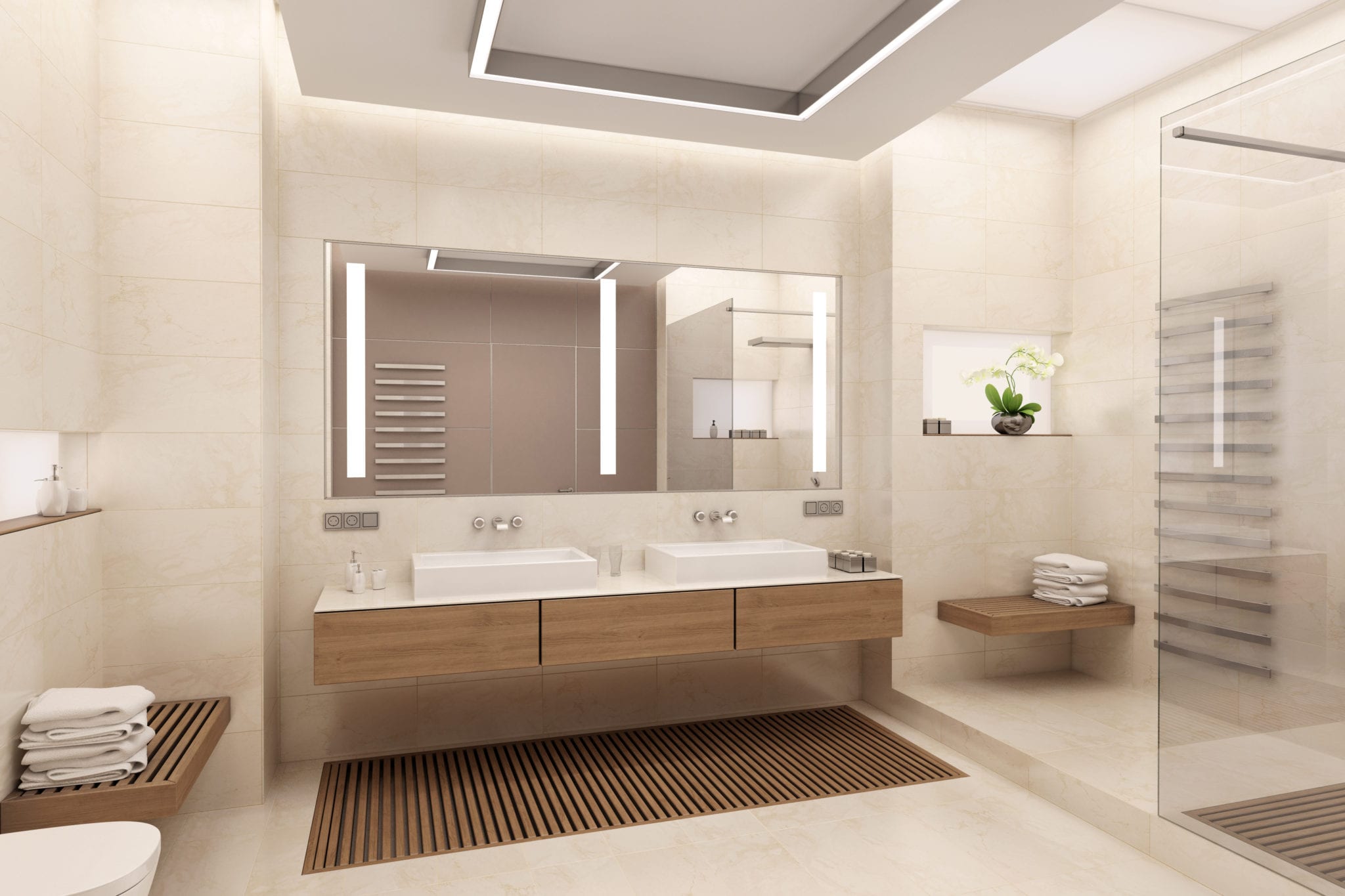 Floating Vanities
We absolutely love floating vanities! They create a beautiful visual flow to a room, as opposed to pedestal vanities which can make some spaces feel clunky and small. Floating vanities offer a modern feel to a room and also create extra storage underneath! This style vanity is bolted into the wall from the back, and has the ability to make small bathrooms feel bigger by creating the illusion of space with all the unimpeded space underneath the vanity. But one of the most convenient features of this style of vanity is that they can be installed at any height. For families with children, people with disabilities, taller or shorter people, this style of vanity may be the perfect way to make your bathroom more accessible! These types of vanities are great for small spaces, or spaces that may become wetrooms (an adaptation of a damless shower, see below!) because you don't have to worry about the bottom of your vanity getting destroyed from water damage!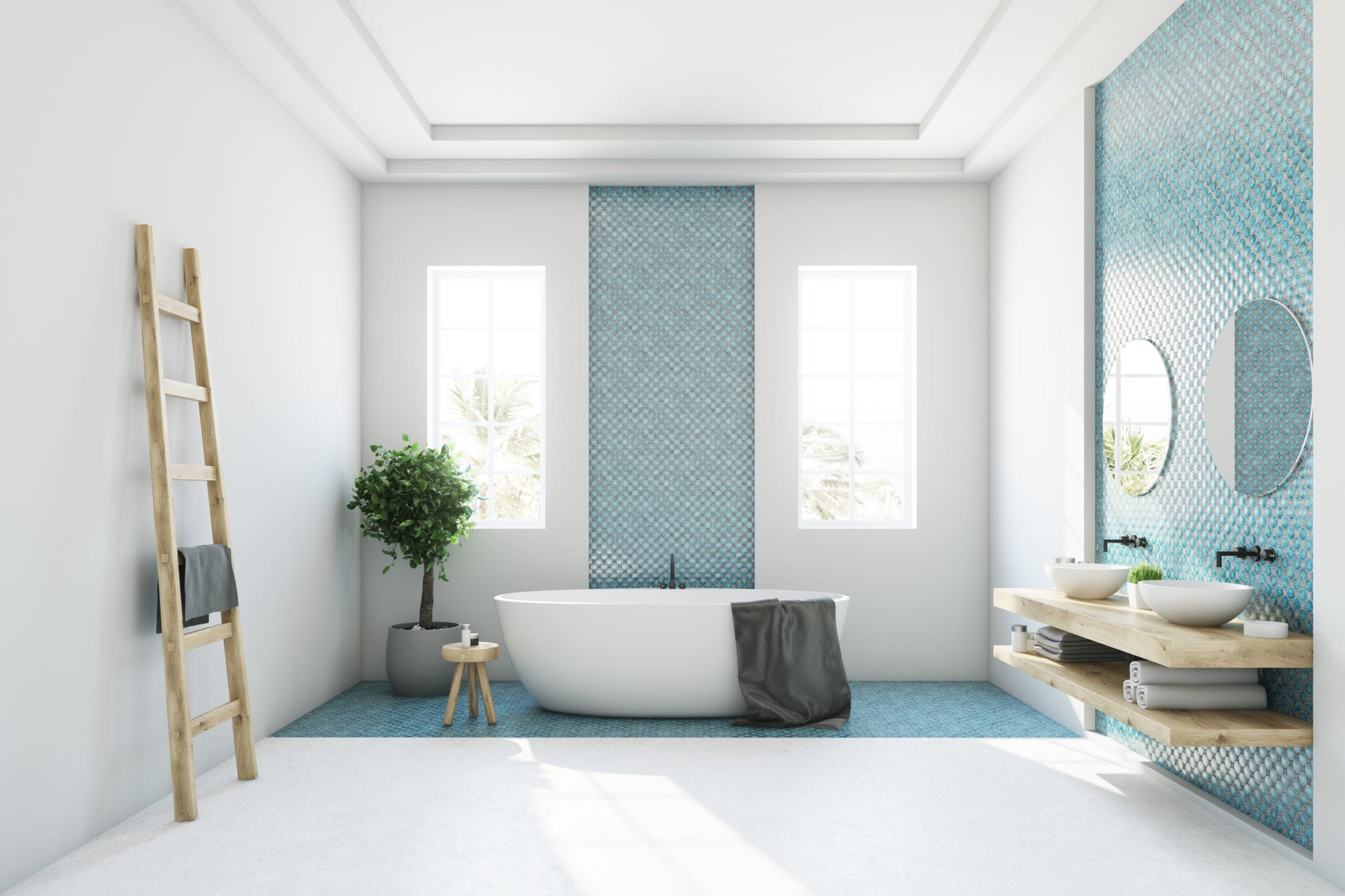 Statement Tiles
Statement tiles are always a fun idea in a bathroom. Currently we are loving Moroccan fish scale tiles, along with other tiles that create movement on the walls. For the past decade subway tiles have dominated the field. From bathroom tile, to kitchen backsplashes, subway tiles could be seen all over a home. But this year we are seeing a drastic increase in statement tiles, moving away from the uniformity and mundanity of classic subway tiling. When considering statement tiles, remember that a little can go a long way, and you may find that you use less tile overall than you would when using a more generic style and shape for your tile. Consider creating a stunning floor with your statement tiles, or if you are tied to the subway tile aesthetic, give your walls some visual interest by alternating vertical and horizontal tile orientations, or using glass as opposed to ceramic tiles!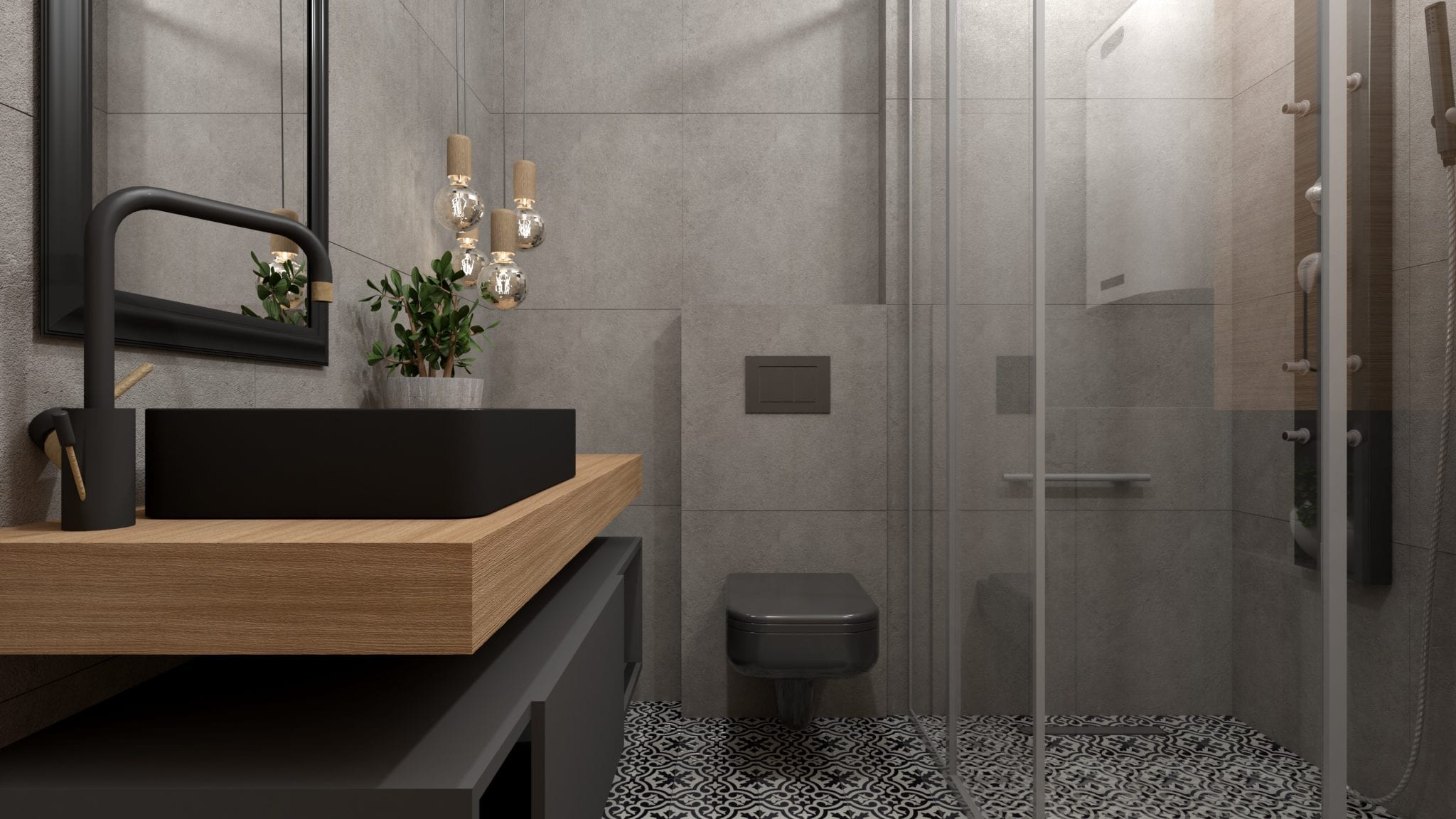 Matte Finishes
This year is all about the matte finish. Matte finishes are not only beautiful, but they are also stain and fingerprint resistant! Though sometimes slightly more expensive than nickel or chrome finishes, the matte finish creates a super modern, sleek look that many other finishes fail to achieve. Most commonly, fixtures with in matte finish can be seen in black, though many companies have begun to dabble with creating fixtures in colors in a matte finish, particularly gold. This style can give a bathroom a beautifully unique vibe by introducing an understated sophistication and attention to detail.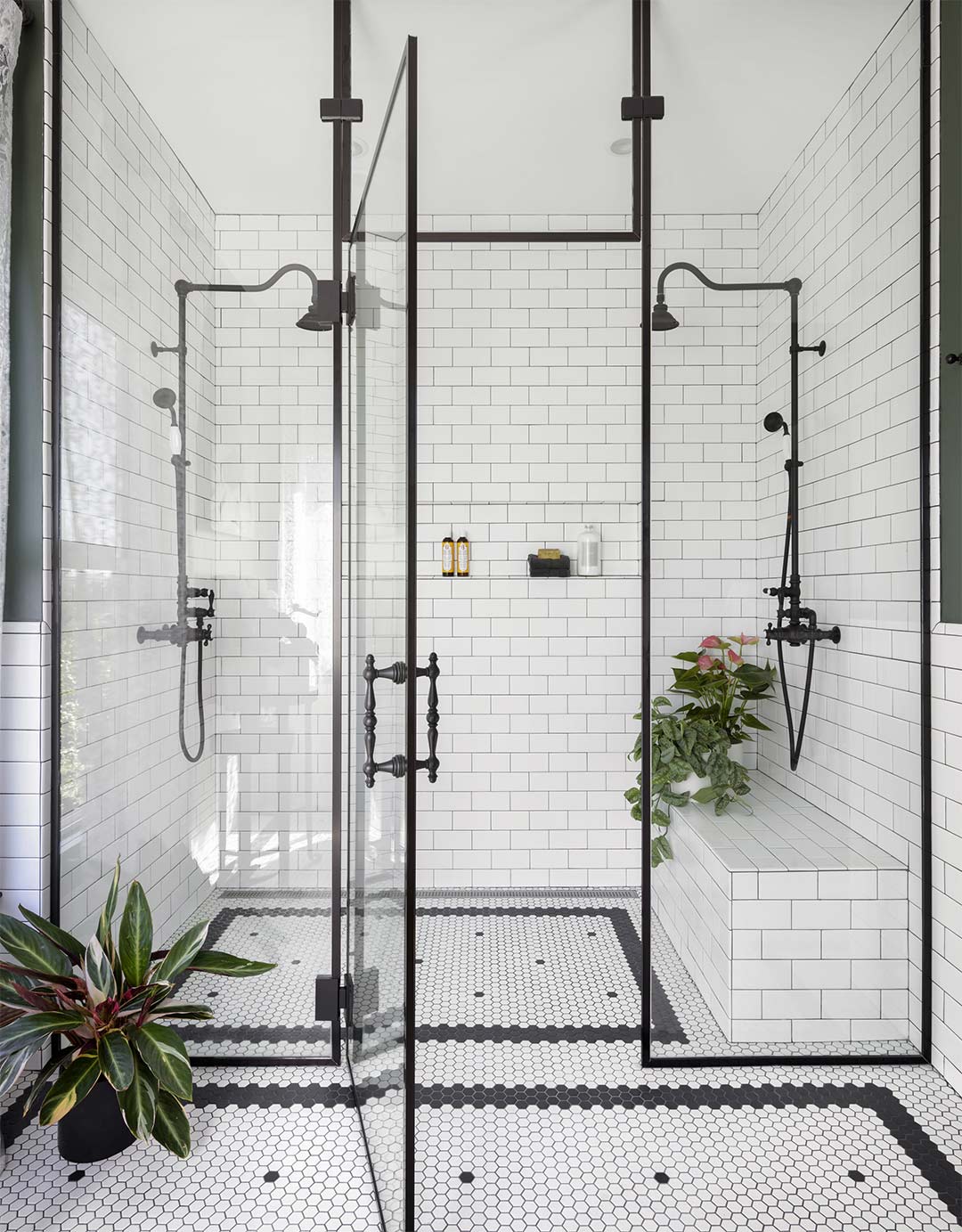 Damless Showers
Damless (or Curbless) showers are becoming increasingly popular in the interior design circuit. Not only are they easier to clean, and get in and out of, but aesthetically they allow for a smoother flow and seamless feel in your bathroom. By creating a seamless floor you allow for the eye to flow smoothly around the space without interruption from the ledge of the shower. Curbless showers also have the benefit of easier cleaning. The lack of tub, or awkward curb angles allows someone to easily clean the surfaces with a long handled scrubber. Some curbless showers incorporate a glass door, to keep the water contained to a certain area, while others have no enclosure at all, but rather use meticulously placed fixtures to contain water spread to a certain area- this specific type of room is called a wetroom. These types of showers are ideal for the elderly, who may have trouble navigating a shower ledge or bath tub, as well as for people who are looking for a sleek bathroom that highlights the tile work!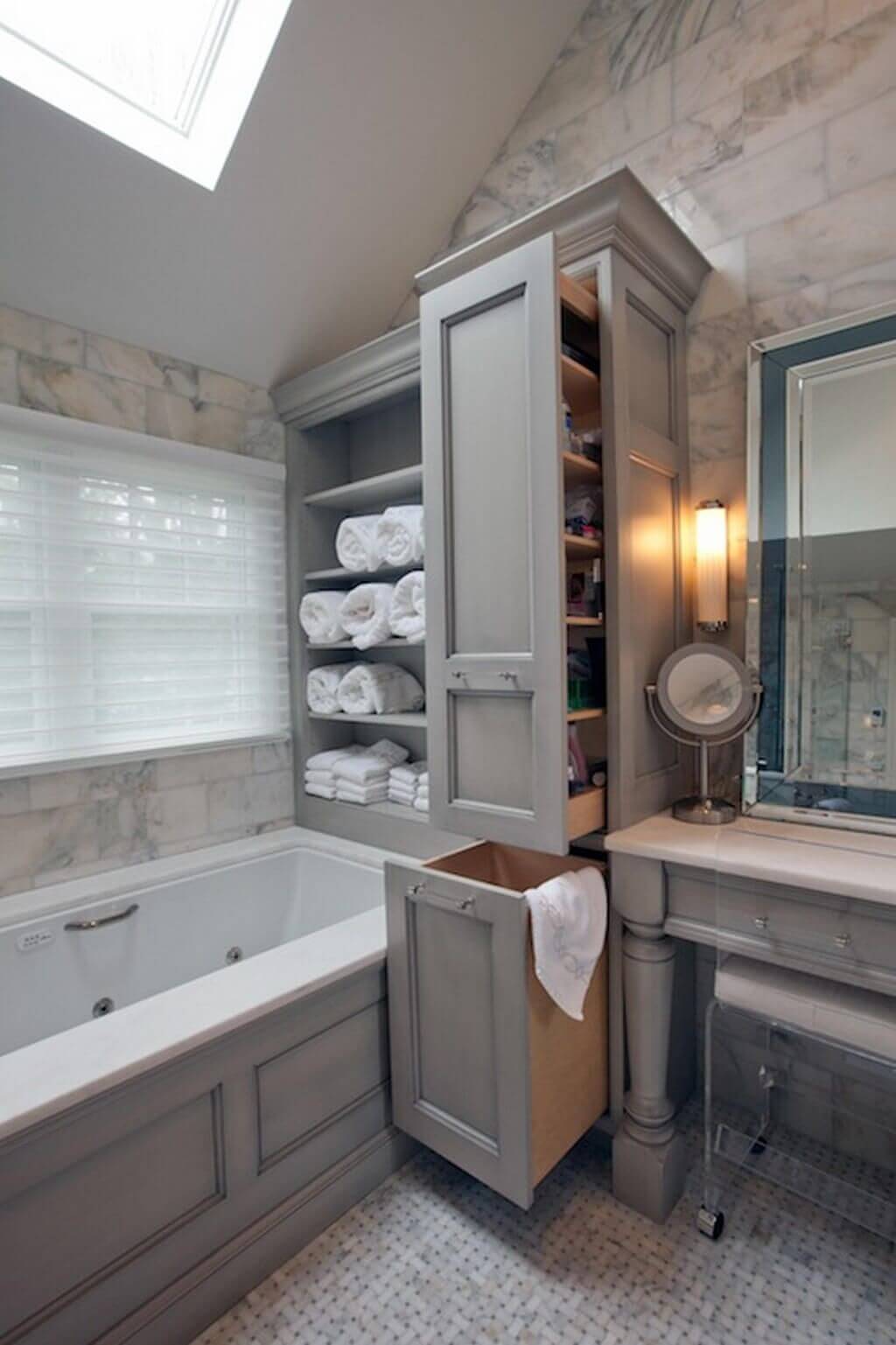 Hidden Storage
Space is a commodity in any bathroom, however in New York City bathrooms it is precious. We are currently loving all the innovative storage solutions that are popping up in bathrooms this year. Recessed medicine cabinets have been a staple for years, but lately we've been seeing this idea implemented with picture frames! This is a super unique way to introduce some personalization into your space, while also adding in much needed storage; bonus- since it is a closed cabinet, a little mess behind it is ok! We also love the idea of customizing the shelving inside your medicine cabinet for added convenience. If you have a toothbrush that requires a power outlet to charge it, consider adding one inside the medicine cabinet and carving out a custom space for your toothbrush and stand. Another great storage hack is to create skinny pull out drawers in your vanity rather than traditional french doors, or a single hinged door vanities. This type of storage is great for extra bottles of shampoo or other soaps, and still being able to see everything! You can create a custom shelf on the top with cutouts to fit hair dryers, straighteners and more!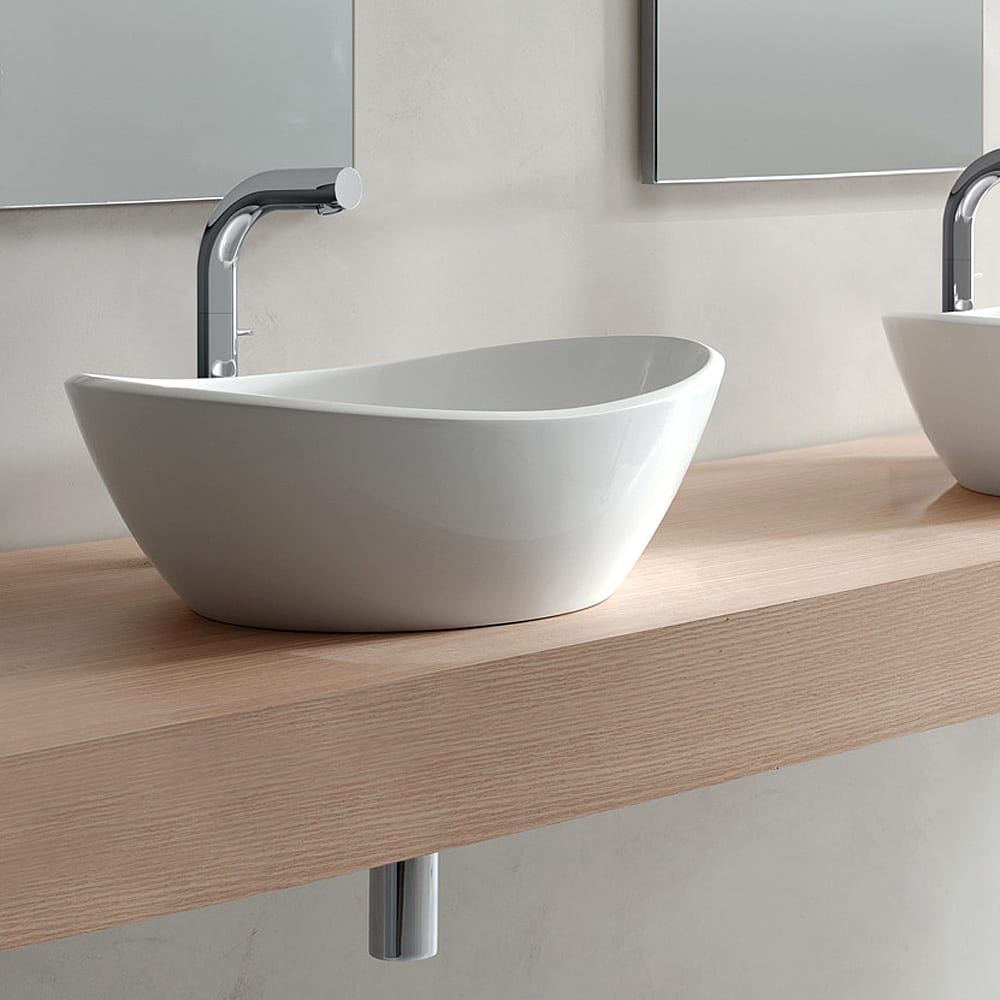 Vessel Sinks
A vessel sink is a sink that sits on top of your countertop, attached at one point on the bottom. In the last decade these sinks have gained increasing popularity in the design world, though it seems that you either love them or hate them, there is very little middle ground. Vessel sinks are modern and stylish, allowing for a great deal of customization and personalization to the overall style of your bathroom. Because these sinks are mounted on top of the countertop they are generally easier to switch out and replace than undermounted sinks, hough it is possible to recess a vessel sink into the countertop. These sinks come in a variety of shapes, sizes, and materials (such as stone, ceramic concrete, glass, copper, stainless steel, and more) and can be created to mimic any style that you choose. It has been noted however that this style of sink is more prone to chipping and cracking due to the exposed edge.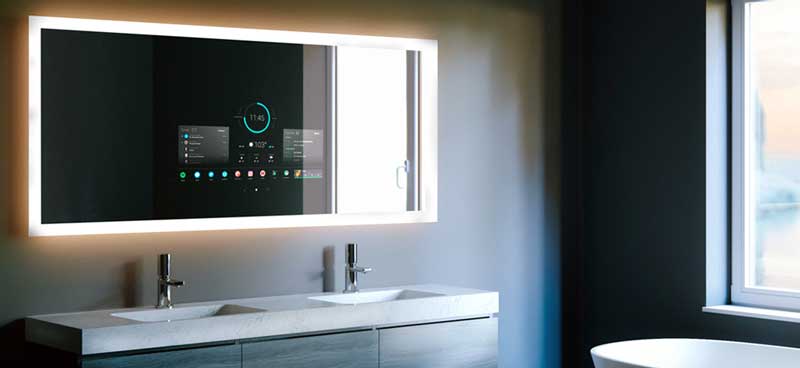 High Tech
Who doesn't want their bathroom to feel like the latest spa? Rhetorical question, EVERYONE should want their bathroom to feel like the latest spa! In a day and age where technology is becoming newer and newer on a daily basis, why not incorporate some of that into your powder room! From chromotherapy showers (color therapy where colored LED lights cycle through your shower to invigorate or calm you) to app controlled privacy glass (adhesive panels that can be applied to any glass surface that becomes frosted through the use of an app!) technology in bathrooms has evolved way past waterproof speakers. Try a towel warming drawer for warm, fluffy towels after every shower, or perhaps a LED screen that actually controls your shower. There are toilets on the market with automatic open and close, hands free flushing and even air-purifying systems. The possibilities for luxury and comfort are endless with modern technology, and as it keeps advancing you'll see this trend just keep growing and growing!