If you've been looking into renovating your kitchen, you have no doubt stumbled across many terms and phrases that have been difficult to wrap your head around. One of which I can guarantee is the term "transitional kitchen". This popular term has circulated around the design community for years, but what exactly does it mean? In truth, the transitional style is actually relatively difficult to define. It is a style that constantly fluctuates by drawing upon the best elements of a lux classical traditional kitchen, and those of a sleek simple lines of a contemporary kitchen. This uniquely fluid style keeps transitional kitchens fun, fresh, and timeless. Currently, the Transitional Kitchen is the most popular style of kitchen for homeowners, probably due to its flexible nature and the ease of customization.
These types of kitchen are ideal for homeowners who don't want to be boxed into one style of kitchen or era of design; those who want to explore and select their favorite bits and pieces from an array of styles. Think of this style as a mediator between two distinctly powerful styles of design, which ultimately creates an effortless, unfussy space. Transitions take place in every aspect of our lives, so why not have them take place in your kitchen?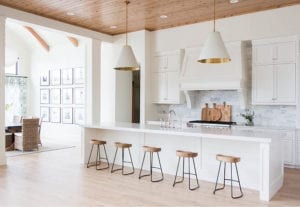 (via. Home Bunch)
Traditional vs Contemporary?
To understand the Transitional Style, it is important to understand the two styles it works to combine; Traditional and Contemporary. An important thing to note about all three styles however, is that none of them have very hard set rules! While these spaces have some features that are typical of the overall style, they tend to be quite flexible and can adapt to many different types of households and homeowners!
The traditional style is characterized by ornate finishings which are inspired 17th and 18th century Europe. The look of a traditional style kitchen generally features luxurious natural stone countertops, recessed cabinets in rich dark stains, crown molding, and almost always a beautiful hardwood floor. Recognized for its elegant fixtures, ornate woodwork, and expensive rounded furniture, traditional style homes are meant to be exceptionally warm and inviting. With walls painted in shades of cream, taupe, and green, and featuring pops of warm jewel tones, the space gives off an aura of dignified, time tested comfort and luxury.
The defining factor of the traditional style is the attention to details. Elegant China, glittering chandeliers, and a hint of metallic finishings give the traditional style kitchen a sophistication that no other style can match. You'll never see harsh lines, or a stark contrast in tones in this kitchen. Fixtures will tend to be a brushed brass or nickel patina, giving the room a soft appearance that it's contemporary style cousin lacks.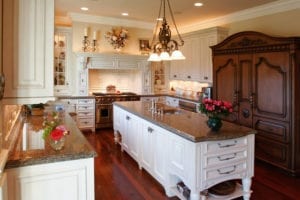 (via. Houzz)
Contemporary kitchens are on the opposite end of the spectrum from their traditional counterparts. Focusing on straight, clean lines, minimalism rules the contemporary kitchen. Beige, white, black, and grey are the colors most associated with the contemporary style, while vibrant colors are incorporated through artwork, area rugs, or other simple accessories. Clutter is the enemy of the contemporary kitchen. This particular style calls for a mess free workspace, leaving countertops clear of unnecessary appliances or decoration. The general feel of this kitchen leans towards "a place for everything, and everything in its place"; so if you like a clutter free environment where the open space speaks for itself, the contemporary kitchen may be the way to go!
Whereas the traditional kitchen relies on natural finishes, the contemporary kitchen is composed of predominantly man-made materials. Glossy acrylic, shining chrome, and frosted glass are typical finishes and accents you can find in this style of kitchen. However, many contemporary kitchens still tend to be quartz or other natural stone countertops much like the traditional kitchen; somethings just never go out of style!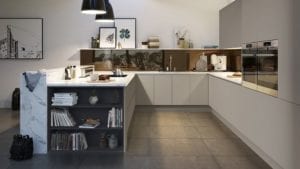 (via. Real Homes. Image by Optiplan Kitchens)
What are some common features of transitional style of kitchen?
Now the transitional style, takes a bit from each style. It keeps the clean lines and neutral tones of contemporary style, while emphasizing the luxury and drama of the traditional style. Patterns and colors used in transitional style homes, tend to be simpler and more relaxed than those in a traditional style kitchen, while still bringing a greater depth and character to a space than you'd see in a contemporary kitchen. A transitional style kitchen generally boasts sleeker appliances in stainless steel, while seamlessly incorporating natural elements such as stone countertops or natural wood cabinetry.
A transitional kitchen is meant to feel effortless and timeless; a streamlined space that radiates harmony. With so much freedom though, it can quickly become an overwhelming experience attempting to create a cohesive environment. A good tip is to stick to only a handful of overarching themes and common elements for your space. By defining these 3 or 4 ideas during the early stages of the of your remodel, you remove the stress of wondering if the finished product will be the unified space you had envisioned.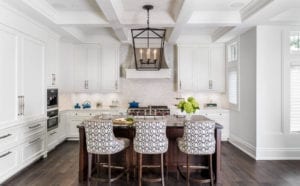 (via. Cranberry Hill Kitchens)
How can you make the transitional style it your own?
The best part about designing a transitional style kitchen is that it is meant to be 100% personal! Because it is a unique combination of the traditional style and the contemporary style, it allows you to customize how much extravagance or minimalism you to put in to it. If you think that this is the feel you've been searching for in your kitchen, but you're still at a loss on where to start here are some great places to jump off from!
Consider having some fun with your lighting, but keeping your cabinets sleek and painted in a calming grey tone with handsome lines and brushed gold hardware. Or maybe you prefer dark wood floors, but bright white walls that boast colorful artwork, and plush high backed dining stools!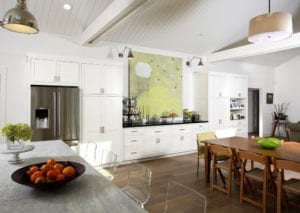 (via. Precision Cabinets)
Have fun with the upholstery of your seating choices, by choosing a patterned or textured fabric such as corduroy or velvet (which is very in this year!), but be careful to not introduce to many competing patterns which can cause the space to feel hectic and hasty. Keep your appliances a clean crisp stainless steel, but get creative with your backsplash by utilizing glass subway tiles in an eye catching color or pattern.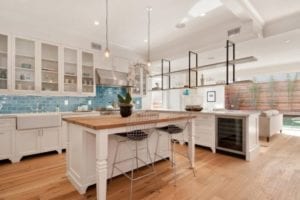 (via. Fireclay Tiles. Image by Eco + Historical Homes)
If you're still unsure of what the best combination of traditional and contemporary is for your home, or if you have any questions give us a call! Our designers are experts at creating unique and functional spaces that blend your style with all of the modern day amenities that you'd want in your home.