The countertop is one of the most important decisions to make when doing a kitchen renovation. The counter or surface complements the cabinetry, backsplash, appliances, and all other aspects of your kitchen to create the perfect setting. More and more clients are stopping by the Klein kitchen showroom to ask us if they should go for a natural stone or a man made product when deciding their kitchen counter top.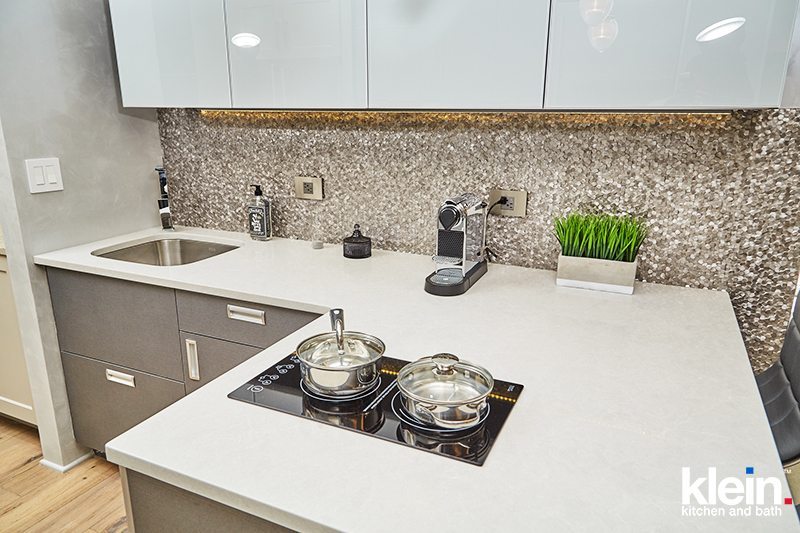 Much of the concern with the man made countertops has to do with the appearance. Although big companies like Caesarstone have created countertops that mimic natural stone, many people worry that it still won't have the desired look of the real thing. Caesarstone recently released their new line of product and once shown the sample counters, clients are happily surprised with the comparison.
Natural stone can be expensive. Natural stone has that luxurious beautiful look that many crave for their kitchen. The one problem with natural stone is the upkeep. Natural stone requires maintenance to withhold its beauty. Staining is one of the biggest issues. It is important to seal the counters to ensure its long lasting durability and to wipe up spills in a timely matter.
The man made products, like Caesarstone, has a color that is permanent and long lasting. These surface tops tend to be extremely durable. They are scratch resistant, heat resistant, and stain resistant. For those with kids, or those who cook often, the man made counter top can be a great alternative to the natural stone.